Dieses Event ist beendet.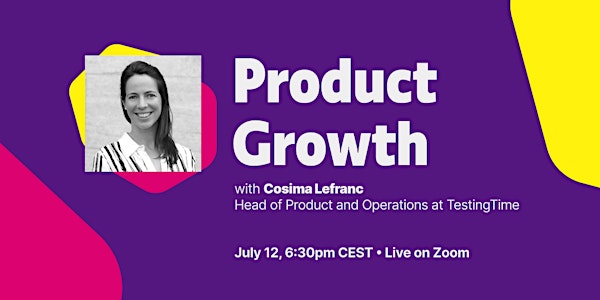 Product Growth with Cosima Lefranc: July Meetup
How much should Product and UX be involved in Sales? Cosima Lefranc from TestingTime will share her experience in this meetup.
Zu diesem Event
Want more content like this? Then join us at PUSH UX 2022 in November!
The Talk
Sales used to be the domain of salespeople. They were separate from the product team in their mindset and often even in their location.
But the lines have blurred. More and more product managers are getting hired with the title "Product Growth Manager" and "Growth Designer" has become a dedicated job description in the world of UX.
Why is that?
In this talk, Cosima explores when or if a company should have a product squad dedicated to revenue and what their key roles and responsibility should be.
About Cosima
Drawing from her dual background in Business Intelligence and Quantitative Finance, Cosima loves to develop user-friendly, eye-pleasing and scalable digital products. She is currently leading the product and the operations teams at TestingTime. The mission there is to help User Researchers, UX Specialists and Product Managers to understand how to build products and services people love by recruiting the perfectly matching testers for their user research. From empowering her team to creating a product strategy, she is focusing on delivering a state-of-the-arr recruiting platform. Next to work, Cosima is a product mentor and mentee, a regular speaker and she got recognised as a female leader in product by the Product Management Festival.
📹 This meetup will be recorded