Description

The #PoDojo is the "place of the way" to practice how to make an impact by solving real problems of customers.
At the 3 day Product Dojo for product creators you will be hands-on from the first moment to power up your skills in finding products customers love. While navigating the way from initial idea to validated product, you will be applying the frameworks Design Thinking, Scrum and Lean Startup, including tools like Value Proposition Design, interviewing, creative techniques for idea generation and User Story Mapping. The 3 days go far beyond and include the Scrum Alliance certficate for Product Owners (CSPO).
Takeaways
Apply techniques for customer and product discovery to find a solution that fits your customers' needs.

Learn how to design, validate and pitch a compelling product vision.

Experience team dynamics in gamified Lean and Agile product development exercises.

Apply what you have learned to move an idea one step further towards delivering a product customers love.

Network with your product creator peers.

Leave the Product Dojo well equipped with the latest cutting-edge toolkit designed to help you create products customers love.


Who is this for?
The Product Dojo is for anyone who wants to lead in product development, e.g. Product Managers or Product Owners but also people contributing to making products customers love like UX Designers, Scrum Masters or Agile Coaches who want to extend their toolbox with the methods from product discovey. The style of the workshop is highly interactive so be prepared to leave your comfort zone. The experience level in Lean and Agile product development is ideally one year or higher.
Day 1: Create the Space
Design Thinking: Explore user needs within an iterative approach, learn to empathize with users using interviewing techniques, ideate and prototype to validate assumptions

Product discovery and agile planning: Value Proposition Design, User Stories and Story Mapping

Scrum in action: Experience roles, artifacts, team dynamics and flow
Day 2: Explore the Space
Personal Business Model Canvas: The Product Owner as a service in a networked organization

From idea to product: Lean Startup, Product Discovery and Visioning, Story Mapping, User Story Writing and Release Planning, Value-Driven Development in Sprints
Day 3: The Product Launchpad
Pitch your vision and go for a ride, applying the concepts and tools you learned

Get coached/mentored working on an idea you choose

Certification
The course includes the Scrum Alliance Certified Scrum Product Owner. After completing the course you will be registered with the Scrum Alliance as a Certified Scrum Product Owner (CSPO) with no additional effort or cost required. In addition you are eligible to apply for 21 PMP PDUs with the Project Management Institute, satisfying 21 of the required training hours for the new PMI-ACP (PMI-Agile Certified Practitioner.)

Terms
The registration fee enables you full access to the #PoDojo learning journey that starts directly after sign up with access to our chat in Slack. You can pay either via invoice, direct debiting or credit card. VAT/turnover tax will be charged based on EU regulations. If you need advice how this works in detail, do not hesitate to email us. By cancellation we will refund you according to the following: More than four weeks before the Product Discovery Dojo starts 100% of the price paid, four to one week before the Dojo starts 50% of the price paid and cancellation after this timeframe or "no show" we offer no refund. Substitutions are accepted at any time. If there is a need to cancel or postpone the event you will be notified no later than four weeks prior to the Product Dojo and all registration payments will be refunded promptly or an alternative will be offered.

Further Information
To get a deeper understanding about the learning experience you can expect, check this blog post of a former participant that supported the #PoDojo as a coach. Or have a look on images of our latest workshops in Berlin. If you need some consulting in advance to check whether this training might be the right one for you, please drop us an email to contact@podojo.com. To learn more about the #PoDojo visit our website podojo.com.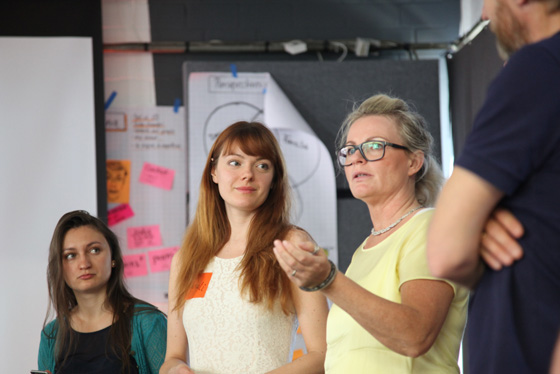 Some of Our Customers
Axel Springer Plug & Play, Cornelsen, Daimler, Deutsche Bahn, Here, Idealo, Immobilienscout24, Jochen Schweizer, Lotto24, Microsoft, MySugr, Orderbird, Springer Medizin Digital, Swisscom, Wooga, Zalando
Testimonials
"It has been a great experience with great trainers. Highly recommended to ambitious Product Owners!"
Sascha Hartmann, Wooga, #PoDojo Berlin, Nov 2015
"Very inspiring event with great dedicated people! Awesome."
Stefanie Herzig, Microsoft, #PoDojo Zurich, July 2015
"Talk to your customer, discover their problems and invent a product that relieves customers paint."
Renzo Scheffer, sipgate, #PoDojo Berlin, June 2015
"Intense. Great insights! Wow! Highly recommended."
Sebastian Göhr, Jochen Schweizer, #PoDojo Berlin, Mar 2015
"Get long lasting experiences from a highly motiovated and highly skilled team of teachers!"
Stefan Gohr, Swisscom, #PoDojo Berlin, Mar 2015
"Very experienced trainers and participants sharing first hand experiences of similar challenges and how they have overcome them."
Philip Baumann, DaWanda, #PoDojo Berlin, Mar 2015
"Leave your daily work behind and be open minded, this workshop will blow your mind!"
Christoph Wehofer Austrian Lotteries, #PoDojo Vienna, Oct 2014
"Many thanks to Catherine and Stefan for their passion, patience and inspiration! They opened up a world of tools and concepts, values and ideals for welding team and customers into successful collaboration. I had lots of fun and so many insights - it was a great place to experiment and learn!"
Tanja Urban, #PoDojo Vienna, Feb 2014
"Great learning experience. Great group of people! If you want to learn about Agile this training experience is a must. Be prepared for 3 days of the most intense learning experience you will ever have. Be open, go out of your comfort zone!"
Zvonimir Durcevic, #PoDojo Vienna, Feb 2014
"I have 7 years managing products, and still PoDojo showed me new&different managing aspects."
Erez Hadas-Sonnenschein, Sr. Product Manager, clipkit GmbH, #PoDojo, Oct 2013
"Getting a solid theoretical base and being able to apply the concepts directly leads to very good results"
Philip Hufen, Product Owner, Wooga, #PoDojo, Mar 2013
"Not only the content of the #PoDojo was a great thing to learn, but also the way you teached us the important things, the style you used to get us up to speed and keep us there. I love it! - Thanks!"
Martin Dambold, Product Manager, Whatevermobile, #PoDojo, Mar 2013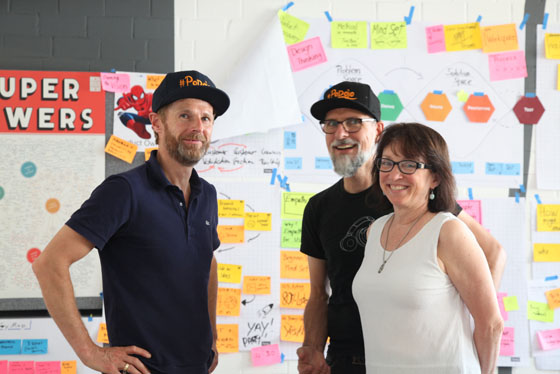 Organizer of Product Dojo Berlin
The #PoDojo is the "place of the way" to practice and grow product creator super powers to make an impact by solving real problems of customers. At the Product Dojo we power up your skills to apply the right agile product strategy, design and development tools in the right context.