Event Information
Location
To be announced :)
Berlin
10245 Berlin
Germany
Refund policy
Refunds up to 30 days before event
Join Design Sprint Academy in Berlin for a 1-day training session to help executives make better decisions and drive innovation.
About this event
Try searching for "failed products" on the internet to find examples of organizations that designed innovative solutions to problems no one has.
Meaningful innovation starts with solving real problems, of real people.
This workshop is for you if:
1. The decision-making process in your organization doesn't consider customer/user needs.
2. Your company is only doing more of the same thing, repeating previous successes, without exploring new opportunities or taking risks.
3. You want to introduce new ways of working, but you struggle to get stakeholders buy-in
About the Problem Framing Workshop
We officially launched this training program in 2018 at Google in San Francisco, training their Sprint Master Academy on how to find problems worth solving and setting the stage for successful design sprints. Here's what problem-solvers from companies like Google, Adobe, SalesForce, PayPal, Boeing, Audible and Nike had to say about it.
We designed the Problem Framing workshop as a preliminary step to ensure effective outcomes from a Design Sprint.
The Problem Framing Workshop was our response to being in Sprints where our clients did not know what the problem was, or if it even existed. Or alternatively, the problems we were tackling were too broad to allow a practical solution or too narrow to be also worth the investment. You can read more about it here.
Since then, we've been training innovators, decision-makers, product managers, UX designers, and Design Sprint Masters on how to:
Identify and capture stakeholder's perspectives
Make sense of the user's needs, perceptions, and expectations
Frame problems into actionable design challenges
Align teams towards common goals
Gain the confidence of tackling a problem worth solving in a Design Sprint
Problem Framing Key Topics:
Contextualizing the problem
Justifying the Business Need
Understanding the Customer
Finding the opportunity
Getting Stakeholder buy-in
We've been traveling the world and training professionals across all industries for the past 4 years. And, here's what they have to say about their experience with us:
"An amazing day at our Design Better workshop on Design Sprints. Shout-out to our fearless facilitators for such a meaningful day of learning and teamwork!" - Invision Team
"Working with Design Sprint Academy we completely unlocked the benefits of design sprints promised in the Book Sprint. Design sprints are now a cornerstone of how we work and we continue to improve them with help from the Design Sprint Academy." - Gavriel Magonet, Co-founder, Runpath, London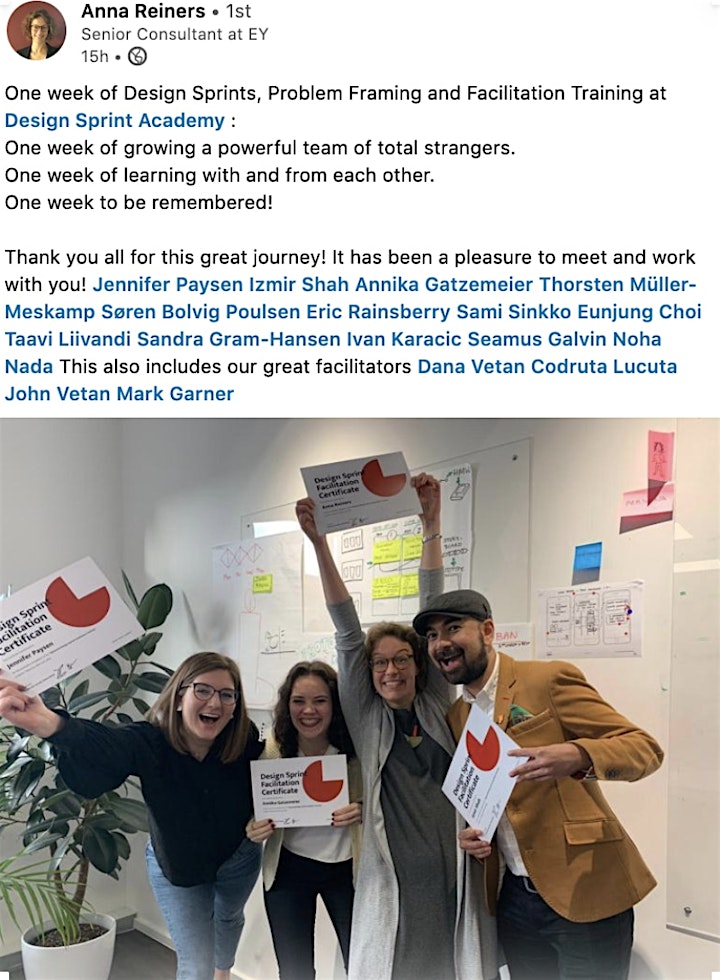 'Once again, thank you for the Design Sprint workshop you held in Helsinki! Everything went smoothly and I learned a bunch of new tools as well'. - Lesse Tammilehto, Creative Director @Solita, Helsinki
'Thank you so much for taking us along with you on a two-day Design sprint journey! It was professionally led, fun to experience, and it provided us with a great framework and new insights to work with. Looking forward to putting this into practice and adding more value to our output as a creative agency.' - Rene ten Brink, Program manager @Random Studio, Amsterdam
FAQs
Can I pay by invoice?
Yes. Please email us at start@designsprint.academy your company details, and we will issue an invoice.
Are the tickets transferable?
Yes. If you need to request a ticket transfer, please email start@designsprint.academy. But! All requests must be made 72 hours prior to the event.
What is your cancelation policy?
Due to the limited number of seats in this workshop, we want to ensure that no one misses the opportunity to participate. For a full refund, we kindly ask you to cancel 30 days prior to the event. If you have any questions please reach out to us at: start@designsprint.academy
Should I come as an individual or as a team?
Both individuals and company teams are encouraged to attend. But just to clarify, you don't get to be a loner at the workshop. Individuals will work together with a team of people from different companies. This workshop will be valuable for both individuals and groups.
Are there any team discounts?
Yes, there are team discounts. Please email at start@designsprint.academy if more people from your company want to join a session.
What is the difference between Design Sprint 3.0 training and the Advanced Facilitation training?
In the Design Sprint 3.0 you will learn the Design Sprint process, experiencing all of the phases of the Design Sprint as part of a team, starting from an initial challenge, through ideating, storyboarding, prototyping and testing. In Advanced Facilitation you will learn facilitation techniques, you will facilitate activities from a design sprint, in a safe environment, and will receive feedback from our expert trainers.
Do I need Problem Framing training?
The short answer is Yes. Problem Framing sets your Design Sprint for success. You will learn how to define the right design sprint challenge that is connected to your business objectives, how to onboard your team and get stakeholder buy-in, as well as how to make sense of customer insights and research.
Is Problem framing part of a bundle?
The Problem Framing training is part of the Design Sprint Master Certification Program, which additionally has the Design Sprint 3.0 training and the Advanced Design Sprint Facilitation training. When you sign up for all three there is a 15% discount.
Date and time
Location
To be announced :)
Berlin
10245 Berlin
Germany
Refund policy
Refunds up to 30 days before event