A 1-day live online class that teaches you how to engineer stakeholder buy-in, define the problems that matter & safeguard sprint success.
About this event
Try searching for "failed products" on the internet to find examples of organizations that designed innovative solutions to problems no one has.
Meaningful innovation starts with solving real problems, of real people.
Our Problem Framing workshop is a preliminary step to ensure effective outcomes from a Design Sprint or any problem-solving process. With Problem Framing you can ensure your investment doesn't go to waste by aligning everyone around a thorough understanding of the right problem from the start.
This course is for you if...
You want to make your decision-making process more user-centric
You need a way to explore new opportunities
You want to introduce buy-in for new ways of working
You want to ensure that your design sprint topics are aligned with business goals
Who should attend?
Anyone who wants to make informed decisions!
This intensive training is best suited for individuals who will run or facilitate Design Sprints in their organization and need to set the stage for success or need to get stakeholder buy-in to run their next Design Sprint.
Product Managers
Agile Coaches & Scrum Masters
Facilitators
UX Designers & UX Leads
Strategists & Consultants
What you'll learn?
Identify and capture stakeholder perspectives
Make sense of the user need, perceptions and expectations
Frame problems into actionable design challenges
Gain the confidence of tackling a problem worth solving
Why you want to learn it?
We officially launched this training program in 2018 at Google in San Francisco, training their Sprint Master Academy on how to find problems worth solving and set the stage for successful design sprints.
Here's what problem-solvers from companies like Google, Adobe, SalesForce, PayPal, Boeing, Audible and Nike learned from it.
To date, we've taught the Problem Framing method to more than 687 consultants, facilitators, product people, and UX designers all over the globe. Here's what our last training participants had to say about this course ...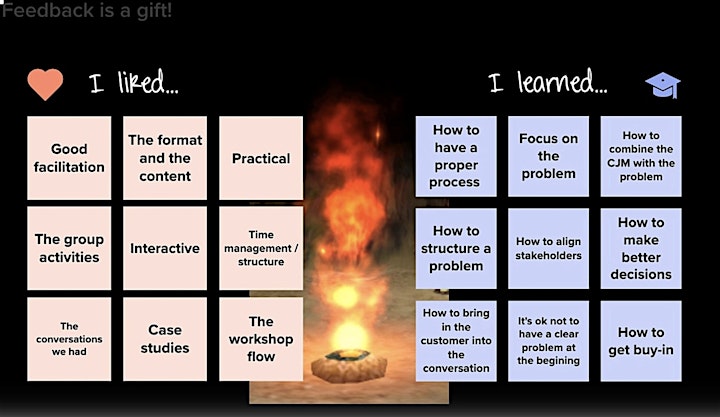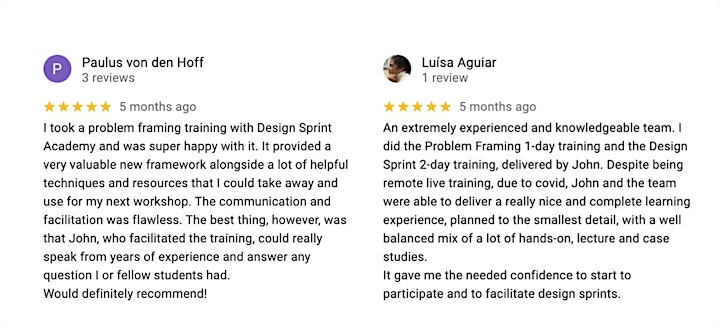 Key Topics
Groundwork and stakeholder mapping
Contextualize the problem
Justify the Business Need
Understand the Customer
Find the opportunity & commit
Duration & Agenda
6-hour workshop (ET time, delivered in English)
10:00 - 13:00 Online Session
13:00- 14:00 Lunch Break
14:00 - 17:00 Online Session
Tools
Digital whiteboard & Conferencing tool
Please state which out of Mural and Miro is your preferred collaboration platform for this training to: alex@designsprint.academy
FAQs
Can I pay by invoice?
Yes. Please email us at start@designsprint.academy your company details, and we will issue an invoice.
Are the tickets transferable?
Yes. If you need to request a ticket transfer, please email start@designsprint.academy. But! All requests must be made 72 hours prior to the event.