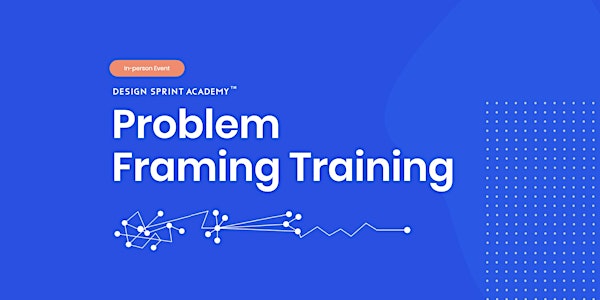 Problem Framing Training - Berlin
A 1-day training session will help you pinpoint a problem's root cause, cut complexity at its core and make better business decisions.
Date and time
Wed, 27 Sep 2023 09:00 - 17:00 CEST
Location
To be announced :) Berlin 10997 Berlin Germany
Refund Policy
Refunds up to 30 days before event
About this event
Problem Framing solves one of the most common (and expensive) business situations: Fighting symptoms rather than the root cause of a major problem.
Failure to define a root problem at the beginning leads to expensive solutions with no real or lasting results.
With Problem Framing, you and your team can pinpoint the root cause early, saving time, money, and needless frustration.
If you search for "failed products" on the internet, you'll find examples of organizations that designed innovative solutions to problems no one has. Meaningful innovation starts with solving the real problems of real people.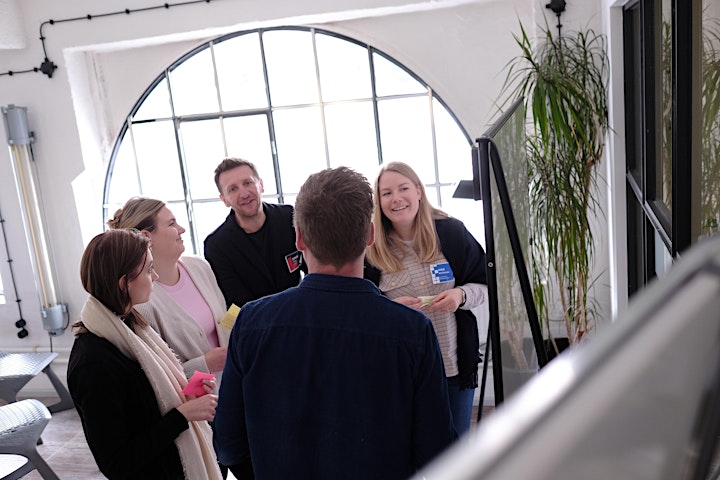 This workshop is for you if:
The decision-making process in your organization doesn't consider customer/user needs.
Your company is only doing more of the same thing, repeating previous successes without exploring new opportunities or taking risks.
You want to introduce new ways of working, but you struggle to get stakeholders buy-in
About the Problem Framing Training
We developed the Problem Framing approach five years ago as a way to help creative teams focus their solutions on a problem worth solving and aligned with the organizational goals.
We've helped organizations such as Which? London, Turner Construction Company, and RGAx embed this approach into their decision-making and strategic planning process.
We officially launched this training program in 2018 at Google in San Francisco, training their Sprint Master Academy on how to find problems worth solving and setting the stage for successful design sprints. Here's what problem-solvers from companies like Google, Adobe, SalesForce, PayPal, Boeing, Audible, and Nike had to say about it.
Since then, we trained innovators, decision-makers, product managers, UX designers, and Design Sprint Facilitators on how to:
Make sense of the user's needs, perceptions, and expectations
Frame problems into actionable design challenges
Align teams toward common goals
Gain the confidence of tackle a problem worth solving in a Design Sprint

What is Problem Framing
Problem Framing is a design thinking method used by a group of senior decision-makers to understand, define and prioritize complex business problems in just one day.
Read more about it here.
What are the Problem Framing Phases
Contextualize the problem
Identify strategic problems and define business questions by capturing stakeholders' perspectives.
Justify the business need
Surface stakeholders' aspirations and align them around a shared project scope or business need.
Understand the customers
Make sense of the customer problems, perceptions, and expectations and map them to the business needs.
Problem Statement
Uncover opportunities that combine the desired outcomes of the business and customers alike.
What makes Problem Framing so successful?
It avoids common decision-making biases
It allows a perspective shift by introducing the voice of the customer through research insights
Speeds up the decision-making process
Increases the value of the outcomes
Drives alignment and consensus among key stakeholders
The Curriculum
Introduction to Problem Framing
The Problem Framing workshop gives you and your team the tools to uncover new business opportunities, precisely define core business problems, and align stakeholders around a shared definition of the challenge at hand.
How to prepare a Problem Framing Workshop with key stakeholders
How to gather data and review research
What is "just enough research"
How to extract and present insights to key decision-makers
How to prioritize problems and select stakeholders
How to run a Problem Framing Workshop
The seven strategic questions
How to build the common ground
How to align a team of decision-makers
How to create a Problem Statement
The learning experience
Our one-day problem-finding and reframing course facilitates experiential and collaborative learning through team-based activities, expert-led facilitation and immediate practice of the newly gained skills.
Bite-sized learning
Hands-on practice
Real-world application
Relatable and exclusive case studies
Debrief sessions and lessons learned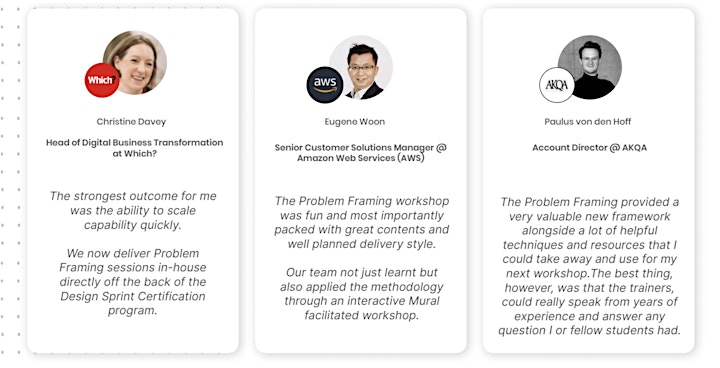 Your Instructor
John Vetan - Innovation Strategist, Facilitator, and Co-founder of DSA
John is an entrepreneur and digital enthusiast with over 20 years of experience. He believes that innovation should not be just another buzzword but something that every organization should attain and instill in their DNA.
Currently, as founder and strategist at the Design Sprint Academy, John is helping organizations around the world use and adopt Design Sprints as an effective way to innovate and find a better way to work.
FAQs
Can I pay by invoice?
Yes. Please email us at start@designsprint.academy your company details, and we will issue an invoice.
Are the tickets transferable?
Yes. If you need to request a ticket transfer, please email start@designsprint.academy. But! All requests must be made 72 hours before the event.
What is your cancelation policy?
Due to the limited number of seats in this workshop, we want to ensure that no one misses the opportunity to participate. For a full refund, we kindly ask you to cancel 30 days before the event. If you have any questions, please reach out to us at: start@designsprint.academy
Should I come as an individual or as a team?
Both individuals and company teams are encouraged to attend. But just to clarify, you don't get to be a loner at the workshop. Individuals will work together with a team of people from different companies. This workshop will be valuable for both individuals and groups.
Are there any team discounts?
Yes, there are team discounts. Please email at start@designsprint.academy if more people from your company want to join a session.
Is Problem Framing part of a bundle?
The Problem Framing Training is part of the Design Sprint Bootcamp Program, which has the Design Sprint and the Advanced Design Sprint Facilitation training modules. When you sign up for all three, there is a 10% discount.
Will there be refreshments and lunch?
Yes, refreshments and lunch will be provided.
About the organiser
We bring design sprint innovation to you.
De-risk new ideas. Build sustainable products. Discover opportunities for innovation.