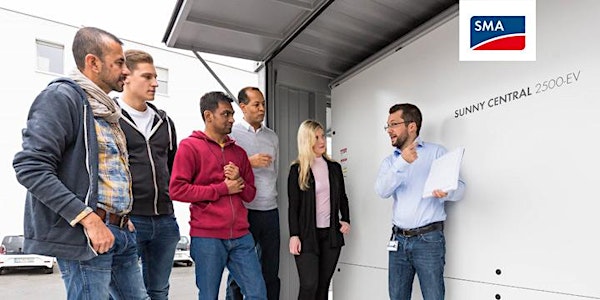 Preventative and Corrective Maintenance of Sunny Central CP Inverters
Location
Günther Cramer Solar Academy
Sonnenallee 1
34266 Niestetal
Germany
Refund policy
Refunds up to 7 days before event
Preventative and Corrective Maintenance of Sunny Central CP Inverters | 25 - 28 Apr
About this event
Thank you for your understanding, that we can currently only accept fully vaccinated or recovered attendees in our face-to-face seminars who also have tested negative for COVID-19 within the last 24 hours. A negative test has to be presented daily. This regulation allows us to satisfy the high training demand faster and with improved safety standards.
The installation and operation of centralized large-scale PV plants has become much easier because of the turnkey solutions offered by SMA with the Sunny Central 500CP to 1000CP inverters at its heart.
But in order to ensure the maximum efficiency and reliability of your centralized large-scale PV plant, your inverters need to be maintained on a regular basis.
This training empowers you to autonomously conduct this maintenance work in accordance with the SMA maintenance protocol, as well as effectively localize causes for loss of production and downtime.
Furthermore this training enables you to autonomously replace wear parts preventatively and correctively in accordance with the SMA maintenance protocol.
That way a maximum of uptime and yield of your large-scale PV plant will be ensured.
Target group:
SMA customers with electrical knowledge
Mandatory Prerequisites:
Employee of an existing SMA customer working with SMA inverters on-site
The participants of the course need to be qualified electricians, who are aware of the potential risks associated with electricity
Participants must wear safety shoes and flame-resistant clothing during the practical training
Recommended preparation:
Basic knowledge of large-scale storage systems
Contents:
Review of Electrical Safety to safely approach the inverter and minimize the risk of exposure to electric shock and arc flash
Live-demonstration on inverter components and functionality of DC, AC Auxiliary Power, Cooling, Communication, Data Logging and Monitoring
Exercises on real inverter how to perform preventative maintenance to maximize the system uptime and retain the SMA warranty
Learn and practice how to read circuit diagrams, finding components and part numbers
Hands-on exercises on identifying faults caused by the grid, PV array or inverter components
Practice how to evaluate event and error codes in order to find the best solution
Extensive hands-on exercises on component replacement
After this training you* should be able and qualified to:
Conduct preventative maintenance work in accordance with the SMA maintenance protocol (relevant for retaining SMA warranty)
Identify and understand the functinality of various inverter components
Effectively localize causes for loss of production and downtime, as well as find solutions to remedy these causes either on your own or with the help of SMA
Maximize your efficiency in communicating with the SMA Service line and therefore help potential issues being solved faster
Conduct corrective and preventative component replacement yourself (as stated in your service contract) on components like interior fans, GFDI breaker or 24Vdc power supply
*please note that the certificate documenting your qualification is both bound to the attendee and the company the attendee is working for during the time of enrolling for the training course (i.e. the certification is nullified if the attendee changes the company afterwards).
After this training you will not be qualified to:
Conduct maintenance work on any other inverter type than Sunny Central 500CP to 1000CP
Train other employees of your company on this matter
Commission SMA inverters on your own (this service is offered by SMA specialists only)
Conduct corrective or preventative component replacement on high-current components like inverter-bridge, sine-filter choke or AC-switch (this service is offered by SMA specialists only)
Language:
English language
Please contact your Foreign Office to find out about the entry requirements for Germany that apply to you. There may be a quarantine obligation upon entry, which you must take into account when planning your trip.