Dieses Event ist beendet.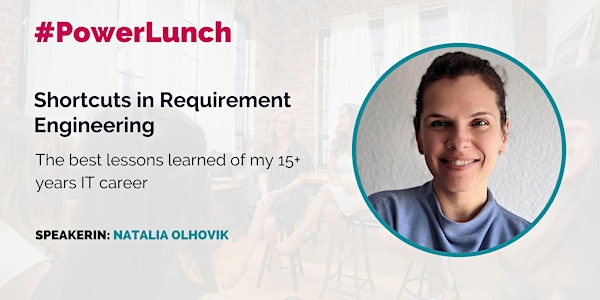 #PowerLunch: Shortcuts in Requirement Engineering
The best lessons learned of my 15+ years IT career
Zu diesem Event
Im Vortrag teilt Natalia Olhovik die besten Abkürzungen in Requirement Engineering mit - wie du als Business Analyst / Product Owner / Projektmanager am schnellsten zum Erfolg kommst.
Kurz über mich: Ich bin Natalia Olhovik. Ich war Softwareentwicklerin, Hackerin, Business Analystin, Projektmanagerin, Product Owner. Ende Juni 22 habe ich meine 15-jährige Karriere in der operativen Softwareentwicklung beendet und stelle nun jetzt meine gesamte Erfahrung in Form von Coaching & Beratung für alle IT-Expert:innen und Unternehmen zur Verfügung, die schneller wachsen wollen.
Mehr über mich findest Du auf meinem LinkedIn Profil https://www.linkedin.com/in/natalia-olhovik-422a1262.
Der Vortrag findet entweder in Englisch oder Deutsch statt, je nachdem, welche Sprache bevorzugt wird.