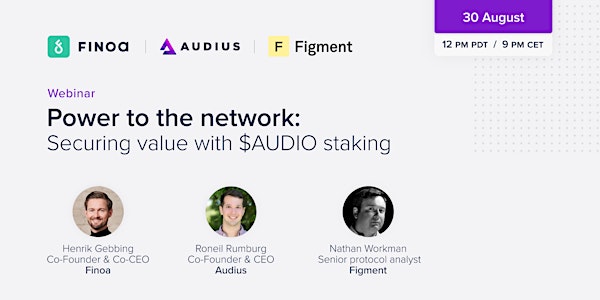 Power to the network: securing value with $AUDIO staking
Sign up to learn about institutional staking in the Audius ecosystem.
About this event
Join experts from Audius, Finoa, and Figment to learn about how staking is powering artist communities in the web3 ecosystem.
Discover the benefits that staking with regulated partners brings for investors, and how to earn rewards for your $AUDIO tokens without compromising on security.
Agenda:
Overview of Audius and the web3 technology powering the decentralized platform
The value of partnering with a regulated custodian
Functions of the Native Utility token, $AUDIO
Advantages of staking with an institutional-grade validator
How does Audius help artists?
What does the future look like for the crypto ecosystem?
Speakers
Henrik Gebbing - Co-Founder & Co-CEO, Finoa
Roneil Rumburg - Co-Founder & CEO, Audius
Nathan Workman - Senior protocol analyst, Figment
Moderator: Chris Wilson - Figment
Audius is a decentralized streaming platform for artists and listeners to collaborate and curate content, rewarding them with native $AUDIO tokens.
Finoa is a crypto-asset platform that supports institutional investors with digital asset custody and staking services, offering seamless access to the DeFi ecosystem.
Figment provides blockchain infrastructure to investors and developers, allowing them to use and build Web3 technology.