Location
Galerie P98A
Potsdamer Straße 98a
10785 Berlin
Germany
Refund policy
Refunds up to 7 days before event
Print your own Postcards.
About this event
One of the joys of running a letterpress studio is to share the experience with others. At p98a we regularly set up workshop sessions for a group of individuals or entire teams. Sign up here for upcoming workshop dates.
Workshop sessions start with a historical introduction to letterpress and with a look at different methods of printing as well as the typographic measurement system. This is followed by a tour through the workspace. Participants become acquainted with our favorite wood type and get to know the presses along with some of their technical details, so they are confident enough to operate them by themselves at the end of the day. We then demonstrate the basic printing process. Our instructors explain the press setup and how to lock up a printing form.
Divided into groups of three or four, our participants learn how to compose a layout and will carry out several print runs. We encourage participants to come up with ideas of quotes or short phrases, that they would like to print, prior to the workshop. ­However, eventually the constraints of limited type sizes or missing letters may lead to a change of copy – an experience we consider to be an essential moment of our workshop. Many of the best ideas stem from having to work with what is available.
During the lunch break we can recommend several great culinary options nearby, ranging from a Swabian-Austrian mix over Arab fast food to vegan delicacies and, of course, there's real Berlin-style curry wurst.
The workshop ends with cleaning up the mess all of us created during the day. Putting reglets, quads and leading back in order, sorting letters and assigning them to the appropriate type case and cleaning any remaining ink from the press rollers is a task equal to designing and printing. 
You will print 20 high-quality postcards. Is there anything more satisfying than setting one yourself and printing it on a Boston Platen (built in 1910)? Format: 10.5 × 14.8 cm, 350 g card, 2-color motif, edition of 20 copies. You can take the proofs and 1 trial copy straight home with you. The rest of the print run has to dry for two days. We will be happy to send you the finished cards by post if you are not able to pick them up for a coffee.
Sign up for upcoming workshops right here.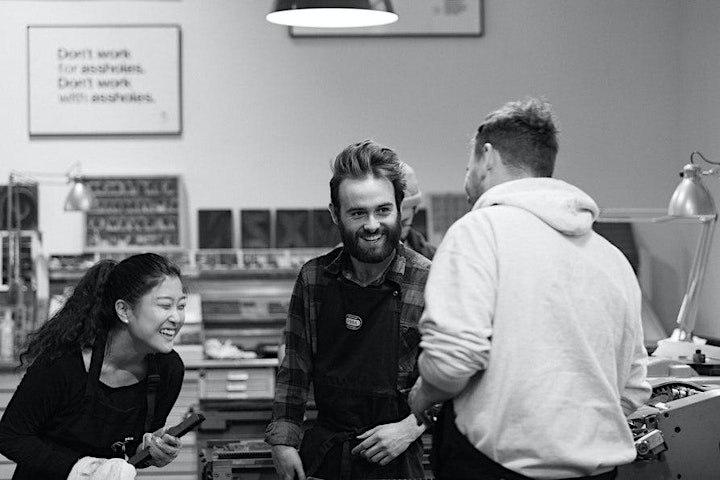 Please note: We reserve the right to cancel the workshop up to three days in advance. This may be due to the pandemic situation, a case of illness or too few participants.