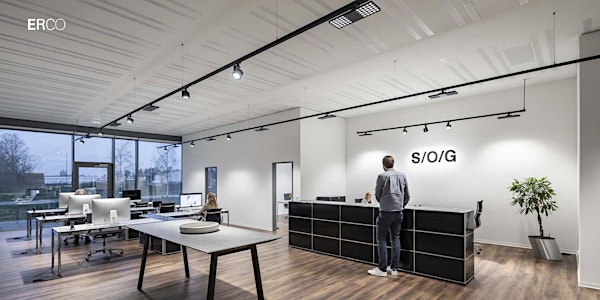 Post-pandemic office lighting trends
Post-pandemic office lighting trends – How office lighting should look like today
About this event
At the latest since the Corona pandemic, our working world has changed drastically. Around the globe, traditional office work is increasingly shifting to remote working. According to a Eurostat study, three out of ten companies in Europe expect more than 70% of their employees to work remotely within the next 3 years.
This has an impact on office architecture. Because it now has to fulfill different tasks than in the past. New work offices must offer more opportunities for collaborative work in teams and improved quality of stay. With fewer people on the site, they can be 20-30% smaller, but need to be more efficiently organised and technologically advanced. Flexible coworking areas and attractive lounges for agile teams will increasingly take the place of traditional individual workstations.
Does this also effect office lighting schemes? The short answer is: yes! ERCO has analyzed the post-pandemic office trends such as flexible layouts and a human centered biophilic design. "New Work" lighting are based on three decisive principles. Learn what these are and what contemporary standard compliant office lighting can look like today in our webinar "Post-pandemic office lighting trends".
What to learn?
- How post-pandemic office trends affect lighting schemes
- Get to know the three design principles for human centered office lighting
- For designers: How to transfer a new work office layout into a human centered lighting scheme
- For office outfitters: Discover standard compliant concepts beyond troffer and panel lighting
- For project developers: How new work lighting increases attractivity and reduces energy costs
- Get inspired by best practice cases from around the globe
- Where to get helpful planning aids for your next office project
Register now.