Dieses Event ist beendet.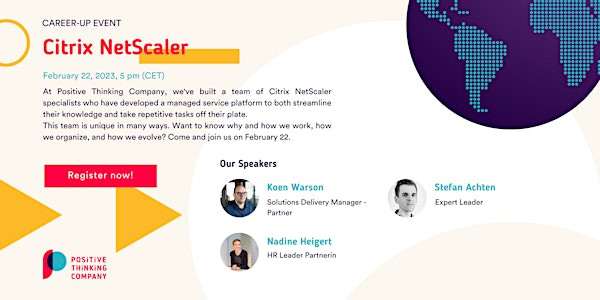 Positive Thinking Company - CAREER UP - Citrix NetScaler
CAREER-UP - Our event format where we regularly take you behind the scenes of Positive Thinking Company.
Von Positive Thinking Company GmbH
Zeit und Ort
Datum und Uhrzeit
Beginn am Mi., 22. Feb. 2023 08:00 (PST)
Zu diesem Event
We would like to warmly invite you to the next edition of our Positive Thinking Company "CAREER UP" event series on February 1 at 5pm, where we will take you into the world of Citrix NetScaler! With this format, we would like to give you a behind-the-scenes look at the Positive Thinking Company. 🚀!
At Positive Thinking Company, we've built a team of Citrix NetScaler specialists who have developed a managed service platform to both streamline their knowledge and take repetitive tasks off their plate.
This team is unique in many ways. Want to know why and how we work, how we organize, and how we evolve? Come and join us on February 1.
In a relaxed atmosphere, we would like to exchange ideas with you, answer your questions and, of course, invite you to network. 💬
The event will cover the following topics:
➡️ Introduction to NetScaler
➡️ Insights into the role of a Citrix NetScaler expert
➡️ Employee experiences and daily work routine of our technical experts
➡️ Your development opportunities with us
You also have the opportunity to ask all your questions. Whether about our projects, our company or our daily work - we'll be happy to answer them!
We look forward to talking with you and together laying the foundation for your career as a Citrix NetScaler expert or advancing the career you have already started!