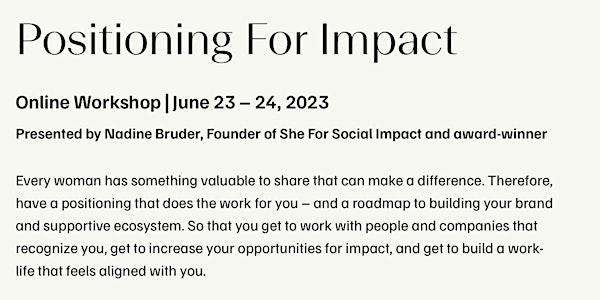 Positioning For Impact – 3-Part Online Training
IMPORTANT: Event is on Fri June 23 + Sat Jun 24, 2023 – for details please read below
Date and time
Fri, 23 Jun 2023 05:00 - Sat, 24 Jun 2023 05:00 PDT
Refund Policy
Contact the organiser to request a refund.
About this event
Ready. Set. Go!
Every woman has something uniquely valuable to share that can make a difference for a team or in somebody else's life. And people need to recognize it! So, are you ready to level up your career in order to impact and to have the work-life that feels 100% YOU?
Does this sound like you?
You seek to engage in work which feels more meaningful, but you don't know what your unique leverage is to have the work-life you desire?
You have spent too long giving your best and promoting what you have to offer, expecting to reach that next level, yet your efforts remain stagnant and you feeling dissatisfied?
You want to become your own boss using your talent and experience, now seeking the foundations to promote your offering and yourself?
If you're a woman ready to choose yourself and uplevel for your individual impact, to be seen and to feel more fulfilled in work-life, then this is for YOU!
After this 3-part online training you will be able to:
Understand your uniqueness and the impact only you can create, and what the next steps are towards your desired work-life.
Attract work-related and life-changing opportunities that you wished for with more ease and authenticity, now being able to bring your talents, receive the recognition, and to impact.
Strengthen your self-worth and enjoy promoting yourself in an effective yet natural way as the positioning and work-life you're creating for yourself feel more aligned.
Leverage formulas that help you to evaluate and articulate the impact that comes with you – taking the guess work out of a situation.
Implement research, tools and a roadmap for your work-life ecosystem and brand building right away – knowing where you are, how to go forward, hence accelerate your growth path.
Your host: Nadine Bruder
Founder of She For Social Impact. Award-winner. Design and business strategist. Sustainability advocate. Sparring partner to decision makers. Ice-cream, nature and the arts lover.
If you're reading this, then you and I seem to have something in common. We are creators of something that deeply resonates with what we value; getting there by taking one intentional step after another.
Little did I know how life would unfold when my first advisory work at the age of 25 helped to turn Steve Jobs into a fan of that former mandate's brand. Over the past 16+ years my catalyzing, creative-analytic nature has helped brands and executives of international companies to bring their authentic essence and uniqueness to life in various shapes and forms, and to connect with others for sustainable progress.
It was when I conceptualized and set up Germany's first disruptive IT training company in 2016 that I've experienced so much joy for life from the students despite their fear of "being not (good) enough". And I've recognized back then that being of service to individuals who seek change or personal growth is what my heart wants me to follow in life.
Fast forward to today, I feel truly fulfilled about helping particularly women to turn their uniqueness and what they value into what fuels their work-life. Said that, it would be an honor to help guide you on your own path to more of YOU!
Love, Nadine
About the organiser
SHE FOR SOCIAL IMPACT is an exclusive network made up of change-leading women across the globe who are committed to create or invest into companies that apply societal purpose and high-scale, innovative technologies to positively impact the lives of millions of people and to tackle the world's most pressing challenges.
Its quality industry insights, high calibre experts and international partners as well as its action-based solutions to increase both, women's capacities as impact leaders and their access to investible impact opportunities makes this network unique.