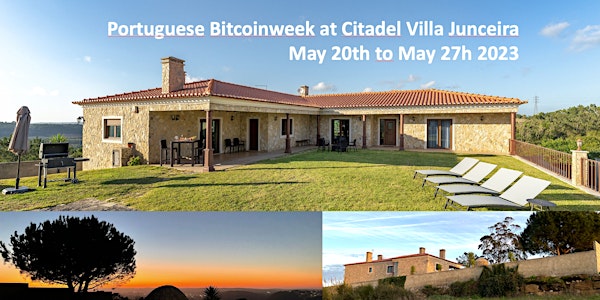 Portuguese Bitcoin Week at the Villa Junceira Citadel
This Bitcoin Citadel in May 2023 consists of 2 days of real Bitcoin events at Villa Junceira and local tourist highlights
By Heyden.Net Internetservices UG (haftungsbeschraenkt)
Date and time
Sat, 20 May 2023 17:00 - Sat, 27 May 2023 09:00 WEST
Location
Villa Junceira Rua da Junceira 19 2510 Usseira Portugal
Refund Policy
Contact the organiser to request a refund.
About this event
Conserve Bitcoin-Akademie and Bitcoin Bootcamps have jointly developed a programme for a Bitcoin Citadel Week in Portugal: The exclusive program consists of two days of the highest content Bitcoin events at Villa Junceira near Óbidos. This highlight frames a local tourist accompanying programme on the Portuguese Silver Coast with visits to exciting places such as the surfing hotspot Nazaré, UNESCO World Heritage Sites such as Alcobaça and the medieval castle citadel Óbidos.
As the core of the Citadel programme, we have scheduled a day-long Bitcoin practice workshop with Jörg Hermsdorf's Conserve consultancy on Monday May 22nd , as well as a Portuguese-German Bitcoin Meetup with important minds from the Lisbon Bitcoin and Crypto scene (such as Joseph Hall from Cointelegraph, or Lisbon Crypto lawyer Martinho Lucas Pires and of course Jörg Hermsdorf) on Tuesday May 23rd.
Around the two days (Mon 22.5-Tue 23.5.) a complete one-week stay (20.5-27.5.) at the villa with programme and excursions on the Portuguese Silver Coast (Nazaré, Tomar, Peniche etc.) can be booked. The Citadel week includes meals (half board) and lodging at Villa Junceira - choice of single/double or shared room and transfers to Lisbon airport. Flights must be booked separately, arrival 20.5. by 1 pm and departure 27.5. from 11 am.
Planned programme (we are flexible on the time of the flights depending on the weather):
Saturday, May 20th: Arrival of the guests at the Citadel with pick-up from the airport at noon / afternoon.
Sunday, May 21st: First immersion in the surroundings: visit to the medieval castle of Obidos and sundowner on the Atlantic in Foz do Arelho..
Monday, May 22nd: Conserve Oneday Bitcoin Workshop in German with hardware wallet setup and concrete exercises on handling Bitcoin and wallets.
Tuesday, May 23rd: Portuguese-German Bitcoin Maximalist Meetup 2-6pm: Possible speakers: Joseph Hall (Cointelegraph), Martinho Lucas Pires (Crypto-Lawyer), John Carvalho and others, Jörg Hermsdorf, moderated by Ulf Heyden.
Evening programme from 6 pm with carnivore barbecue from the wood-fired oven
Wednesday, May 24th: Chill-out day, free programme like excursion to Nazare for bigwave watching
Thursday, May 25th: Cultural highlight tour to the three UNESCO World Heritage Sites Tomar, Batalha and Alcobaca.
Friday, May 26th: Chill-out day, free programme or excursions to Lisbon, Peniche or Ericeira
Sunday, May 20th: Departure to the airport for Citadel guests in the morning at 8 a.m.
Voices on the last Bitcoin Bootcamps 2020 in Hamburg and 2021 in Zurich:
Harald R. Fortmann (Executive Partner, five14): "The range of topics, the quality of the speakers and, above all, their ability to make the points understandable for any level of knowledge of this complex yet so important subject was impressive. The event had a quality that I otherwise only know from the DLD Conference."
Dr. Oliver Bohl (Director Digital Channels, KfW Bankengruppe): "A very intensive day with absolutely competent and clear lecturers and practical sessions - for me there were important basics and I was also able to think along with more specific topics. The whole thing also thrives on the very open exchange between the participants."
About the organiser
Die Crypto-49ers Gruppe ist entstanden aus einem Telegram-Chat verschiedener Krypto-Asset-Enthusiasten aus der Medien und eCommerce Szene.
Warum Crypto-49ers? Unsere These lautet: In einem Jahr im Cryptomarkt passiert sieben mal so viel wie im Internet-Business. Wenn man dann die "Hundejahre"-These auf das Real Life annimmt, dann sind alle Leute, die in der Crpyto-Szene aktiv sind, im letzten Jahr 49 Jahre älter geworden!