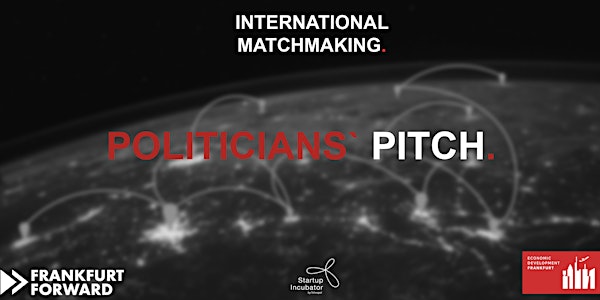 Politicians' Pitch: Visions of the future of Frankfurt & Estonia
Creating visions of the future of Frankfurt & Estonia
About this event
Politicians from Frankfurt and Estonia will reverse pitch their GovTech ideas (e.g. e-government, digitalization of administrative sessions) and have the unique opportunity to receive open and direct feedback from regional and international GovTech experts.
Frankfurt: Dr. Philipp Peter Nimmermann, State Secretary in the Hessian Ministry of Economics, Energy, Transport & Housing
Estonia: Alar Streimann, Estonian Ambassador to the Federal Republic of Germany
Frankfurt: Uwe Becker, Mayor and City Treasurer, Head of Department of Finance, Investments and Churches
Estonia: Keit Pentus-Rosimannus, Deputy Chair of Reform Party Fraction
Once all concepts have been presented, both startups from FrankfurtRhineMain and Estonia provide feedback and use cases in a 30-minutes discussion.
The event will be moderated by Falk Heunemann, FAZ.
*** In the first Digital International Matchmaking from October 20th – 22nd, 2020, Frankfurt Forward and Tehnopol join forces to let startups, corporates, investors and politics discuss and create the future of GovTech. ***
Register also for events below to join further events within the International Matchmaking:
October 20, 9:00 -10:00h - Welcome Session
October 21, 17:00-18:30h - Tallinn x Frankfurt: GovTech Startup Pitches
October 21, 18:30–19:30h - Virtual Cider
October 22, 17:00–18:30h - The Future of Government – A GovTech Event