Description
Crea Germany proudly presents: play4innovation 2019
starring "Creativity and the Future"
The play

4

innovation Tune

Have you ever attended a really cool jazz jam session? With musicians who have never played together before. Listening to the others, using their instruments to start a dialogue with improvisations and variations of the musical theme. Instantly creating an experience for themselves and the listeners, that has not been there before. Got the picture?
This is play4innovation for us. The only difference: Our music is creativity and our instruments are our hands and brains. This year "Creativity and the Future" is the star of our event. It will inspire us, give us room for exploration, and will move our hearts.
The play4innovation event is an energetic and dynamic creativity jam/slam over two days where people from all over the world come together to co-create a shared learning experience.
It is about playfulness and about designing our future:
What will influence creativity in the future?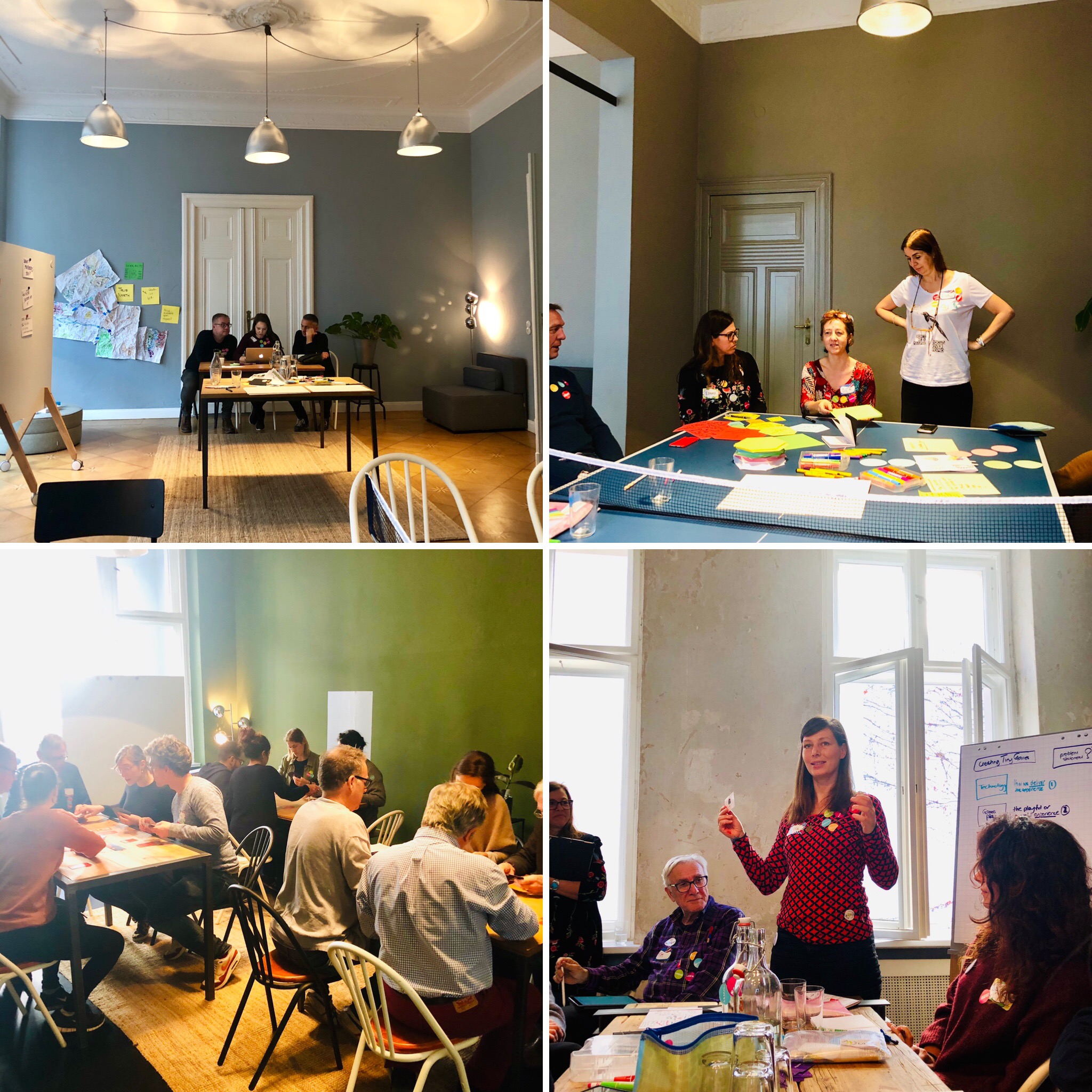 How might we - through creativity - meet the global challenges?
You will experience the play4innovation flow like in jazz: With improvisations, freestyle or well-prepared pieces of work. All of us add different tunes to the jam to find new ways to shape the future. Us participants co-create how the event plays itself during the two days. At play4innovation you will meet like-minded people to explore, prototype and share. They come from all over the world with different creative expertise and backgrounds.
Bring with you what's currently on your creative mind: It might be a first idea (like some independent notes) you wish to build on, or you want to present a prototype you just finished (like a melody you are humming in your mind) or it is a finished masterpiece you would like to share.
The open-space format allows you to choose your own "themes", 'melody' and your own 'tempi', an energetic allegro for those who look for speed and a calm andante for those who need their time to think things through. To feel comfortable during the days we will have our own soulfoodchef Daniel, who is passionate about creating fresh & healthy food.

The play4innovation Synopsis

It is Crea Germany's annual community event, taking place for the 5th time.

It is an Un-Conference with open space technology, where the agenda is co-created every morning by the participants.

Bring something for a 45min session! Around our theme "Creativity and the Future" bring a prepared experience, a workshop or an issue or a question to co-create on.

The participants are from diverse fields and parts of the world.

Our language is English.

It is a cozy event with 40 people max.

It takes place in the wonderful location Gebrüder Fritz.

It will be a welcoming and caring atmosphere, especially through the culinary expertise of Daniel's Eatery.

Hotel costs are not included, please book a room quickly, we recommend Motel One Ku'damm and NH Hotel Ku'damm.
The participation fee of EUR 300,00€ (excl. VAT) covers for location, food & drinks at Gebrüder Fritz, dinner and program on Friday.


The play4innovation Rhythm
THURSDAY First informal get together in the evening (optional) FRIDAY Day 1 of play4innovation, starting at 8.30 am, followed by a special event and dinner in the evening (included) SATURDAY Day 2 of play4innovation starting at 8.30 am, closing at 5 pm. (Final dinner optional)





---
The play4innovation Presenters
Crea Germany e.V. is a non-profit organization with the aim to strengthen the creative potential, especially in education. It was founded in June 2016 and offers events and workshops to spread creative confidence. You can even further deepen your experience and play an active role in fostering creativity by becoming a member of CREA Germany e.V. ! We are always looking for members who share our passion for creativity and support our charity activities for schools and public.




The play4innovation Producers
StrategicPlay® is managing and sponsoring partner for play4innovation. StrategicPlay® is the brand for playful and strategic co-creation. We started in 2006 with LEGO® SERIOUS PLAY® and are one of the few official providers for LEGO® SERIOUS PLAY® trainings. We are fascinated by how big challenges lose their complexity and new solutions are created when we guide teams playfully through our co-creation processes.
Sign up now and join us for two days full of learnings and insights around Play, Creativity, Innovation and CoCreation!