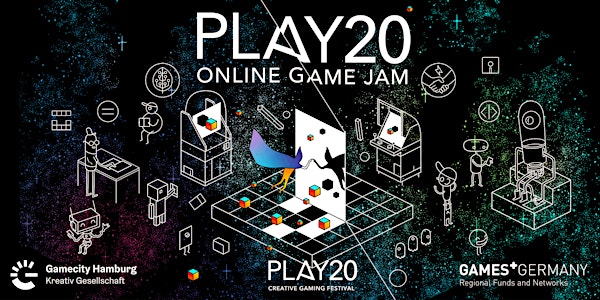 PLAY20 Online Game Jam
Gamecity Hamburg invites you to participate in an online game jam that will take place during the PLAY20 Festival
About this event
This game jam is for everyone interested in games, game development, and meeting new people who share this passion. You can sign up as an individual or as a team.
The online game jam will be hosted by Gamecity Hamburg and will be running from November 6, 2020 6.30 pm till November 8, 2020 4 pm.
Following this, a selection of the best games will be played in a live stream by Twitch streamer OddNina.
The official communication during the game jam will be in English.
Join the PLAY20 Discord where you can get in touch with other participants or the online game jam teams and find team members. Watch out for the channels #searching-for-a-team and also #searching-for-team members.
Timetable
PLAY20 Online Game Jam Introduction
November 6, 2020, 6.30 pm
November 6, 2020, 7.00 pm
Start of the PLAY20 Online Game Jam
November 6, 2020, 7.00 pm
November 7, 2020, 11 am
November 7, 2020, 4 pm
November 8, 2020, 11 am
Deadline for the upload to itch.io
November 8, 2020, 3.59 pm
End of the PLAY20 Online Game Jam
November 8, 2020, 4.00 pm
November 8, 2020, 5.30 pm