Dieses Event ist beendet.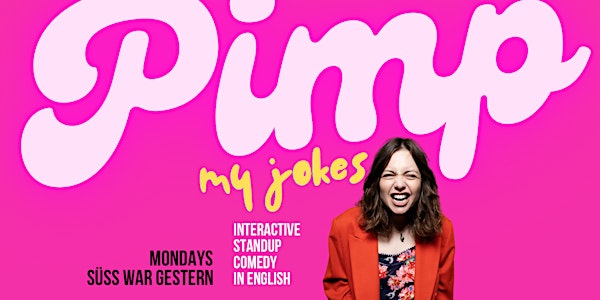 Pimp My Jokes: Interactive Standup Comedy in English at Suess. War Gestern
Standup Comedy in English Mondays in Friedrichshain
Zeit und Ort
Veranstaltungsort
Suess. War Gestern Wühlischstr 43 10245 Berlin Germany
Karte und Wegbeschreibung
Zu diesem Event
Ever wonder what goes on inside the comedians mind? How they come up with jokes? How messed up they are? Well here's your chance to see some of Europe's best English language comedians develop their material!
Four comedians bring some of their best ideas and together riff on it to develop the perfect brain child or abort it on arrival. Either way it'll be hilarious! And guess what, you get to chime in too! In the first half, the comedians do sets working on their newer material which might be focused in on in the second half writers' room.
Step inside the comedian's mind and let us take you on a journey into funny.
Entry: FREE
Doors 8:00pm
Show 8:30pm
Intermission 9:30 - 9:40pm
Show end 10:30pm
Reservations will be held until 8:20pm and then it's first in first served.
This is a donation based show, so consider giving handsomely as comedy needs friends.
Recommended donation 7-10€
YOUR COMEDIANS:
ANNA BEROS (AUS)
Anna's a Kiwi born, Melbourne raised, Berlin based stand-up comedian, writer and podcaster. She's written for Comedy Central DE, has a weekly podcast, Adults ONLY Comedy Berlin, opened the Hamburg International Comedy Festival 2021 and hosted for the Berlin New Standup Award 2022. She produces and hosts After Party Comedy, Punch Up Comedy, Pimp My Jokes, Doener Comedy, Adults ONLY Comedy Open Mics and Glory Hole Comedy. Anna turns pain into laughter and shame into solidarity. High energy, filthy, wholesome, hilarious.
https//linktr.ee/afberos
https://www.facebook.com/annaberoscomedian/
IG @afberos
https://afberos.podbean.com/
GUEST COMEDIANS: tbc & updated on instagram stories