Eventinformationen
Veranstaltungsort
The Munich Collective
Belgradstraße 66
80804 München
Germany
Time to connect within, through yoga, meditation and journaling.
Zu diesem Event
Max 10 students! Some spots have been taken already through a different plantfrom that is why the tickets on here are limited.
One class pass - 18 EUR
October 5 class pass - 85 EUR
Fri 1st - 19:00 - 60min class - Theme: Self love & care - Heart Chakra
Fri 8th - 19:00 - 60min class - Theme: Speak your truth - Throat Chakra
Fri 15th - 19:00 - 60min class - Theme: Emotional Clarity - Third Eye Chakra
Fri 22nd - 19:00 - 60min class - Theme: Trust & Surrender - Crown Chakra
Fri 29th - 19:00 - 60min class - Theme: Physical & Emotional Balance - All Chakra healing
About the event
So many of us as women are experiencing the same themes, limitations, blocks and hang ups as each other and these spaces really express this.
It it absolutely not by coincidence! We live in a society of mass media, patriarchy, conformity and learnt behaviors.
Coming together in this way we can truly support one another by sharing our own experiences, allowing through our own insights to often help others change their own stories or way of thinking.
In this class we will discover ways of reflection, self-care and self-love through connecting to the energetical center of the root chakra, one that aligns everything else together.
Emotions are just Energy in Motion, so you can expect a lot of shifts, movement, and energy to be flowing in your being through and even after the session.
Event Details
You will have a 60 minute yoga class, which includes yoga movement, meditation and journaling.
PLUS a free booklet on the energy center with journal prompts.
Who is this for
Anyone who:
wants a more impactful self-care routine
wants to heal through the physical, emotional and spiritual bodies
wants to improve your relationship with yourself, and with others
is ready to learn and make impactful changes
has things that don't always go so well
has things you want to let go of
is ready to invest in your own well being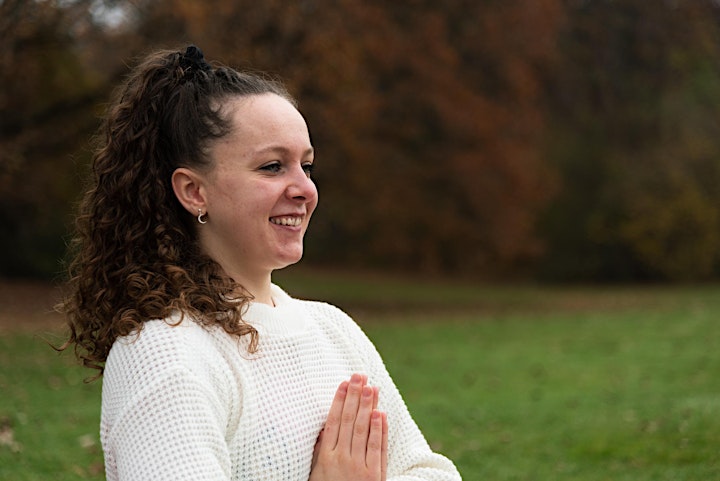 About Paulina - your host! ❤️
She is a Rheumatoid Arthritis Warrior, kizomba dancer, passionate about helping one person at a time. Originally from Poland, growing up on the UK and been living in Germany since 2017.
Teaching yoga internationally online as well as in person, through group and more private healing classes.
Her classes are not a fitness class focused on only the physical body, but they embody the healing aspects of a yogic lifestyle by leading a class with physical movement, meditation, breathwork and more to provide you with an all round healing.
Her classes are accessible to everyone, to the more frequent and less frequent yogis, they are trauma informed creating a safe space for you to be who you are without any judgements.
P.S. She loves a good chat! Write to her on instagram 💌 (@with.paulina)
Testimonials
"Paulina was extremely skilled at showing variations of the poses to avoid excess pain and strain. She also was able to give me clear directions despite the session being virtual! It was powerful to learn from someone else who also has a chronic illness"
"I trusted Paulina completely since she has arthritis herself and therefore made it her mission to prove that people of the autoimmune disease community can engage in yoga even with our limitations!"
"I've been doing yoga with Paulina and after three days I was able to take a walk for the first time since 3 months. It wasn't much, only a mile or so, but that is so HUGE right now. Thank you!!!"
"Paulina is an amazing and caring instructor and person. Her courses are accessible for different needs and flares. I have enjoyed her online courses a lot, and for the first time in a long time have been able to do yoga again without running out of steam halfway through or flaring up the next day. She also coordinates lovely international video group calls with people all over the world which has been so wonderful for feeling more connected during this challenging time. Give it a try—you won't regret it."
Many more on Facebook.
Datum und Uhrzeit
Veranstaltungsort
The Munich Collective
Belgradstraße 66
80804 München
Germany
Veranstalter von Physical & Emotional Balance - Chakra healing - Yoga Meditation Breath work
Hi beautiful soul! ❤️
Little bit about me and my purpose