Dieses Event ist beendet.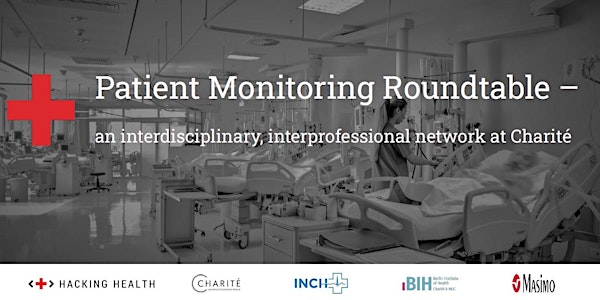 Patient Monitoring Roundtable
Patient Monitoring Roundtable (PMRT) - an interdisciplinary, interprofessional network at Charité
Zeit und Ort
Veranstaltungsort
Ankündigung folgt
Zu diesem Event
8th PMRT: December 13th, 2022 at 6:00 pm (doors open 5:40 pm)
Topic: TeleCare Hotel - The Future of Perioperative Care at Charité?
Purpose: creating a platform for a joint, interdisciplinary and interprofessional work on novel technologies
Participants: up to 30 participants comprising nurses, physicians, patient advocates and industry representatives.
Language: English (German in small groups if needed)
Format: face-to-face
Join us and register here!
_____________
In the course of digitalization, new possibilities and opportunities are constantly arising in the care of patients. Especially in the field of (remote-)monitoring, the use of innovative technologies can improve patient outcomes and reduce the workload for clinical staff. The roundtable will bring together clinicians, patient advocates and industry representatives for small group discussions.
The exchange between clinicians and industry is of outstanding importance to shape the future of patient monitoring. With the help of the roundtable, a platform is created for joint, interdisciplinary and interprofessional work on new technologies. The aim is to work together on realistic and patient-oriented solutions for clinical pain points in patient care.
______________
Benefits for clinicians and patient advocates:
opportunity for contact with industry representatives and chance to give feedback
get to know technologies before approval
exchange with other clinicians on the topic of patient monitoring
possibility for joint project proposals
work on a user/clinician- and patient-centered topic
Benefits for industry representatives:
contact with clinicians to get informal feedback on their own technologies
insight into the interaction between their product and the ecosystem of a workspace
insight into the daily clinical routine and experience of clinical pain point
opportunity for joint project proposal
Contact us if you want to be a Sponsor or Partner: digitalhealth@charite.de
The Patient Monitoring Roundtable is a cooperation between Hacking Health Berlin and the Patient Monitoring and Alarm Management Research Group of the Institute of Medical Informatics at Charité – Universitätsmedizin Berlin.