Dieses Event ist beendet.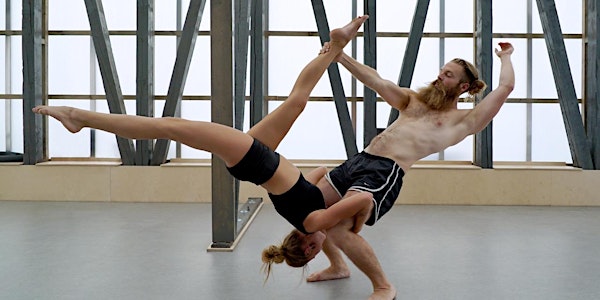 Partner Dance Acrobatics with Adrian Iselin - 5 days Intensive Workshop
Zeit und Ort
Veranstaltungsort
motion*s Tanz und Bewegungsstudio Oranienstraße 140 Im Hof des Aufbau Hauses 10969 Berlin Germany
Karte und Wegbeschreibung
Rückerstattungsrichtlinie
Keine Rückerstattungen
Beschreibung
Partner Dance Acrobatics with Adrian Iselin


5 days of 2 hours wokshop per day. Mondy till Friday 14:00 - 16:00
In this week long intensive Adrian Iselin will introduce you to the foundations of partner dance acrobatics. As beautiful as they are daunting, partner dance acrobatics become very accessible with the right instruction. Once an understanding of certain body dynamics is established, balancing from the center, body tension, using timing to amplify energy, a whole new horizon of partner movement becomes available.
We will be looking at the fundamental techniques and principals: Lifts, Flips, and Transitions. Our training will consist in equal parts of figure as well as exercises to integrate this knowledge and tie it into choreographies.
There are no pre-requisites set for this intensive, though the more experienced the participants are, the further we will go with the contents.


PRICING
125€ (+5% Eventbrite Fee)
or pay cash at the studio desk