Dieses Event ist beendet.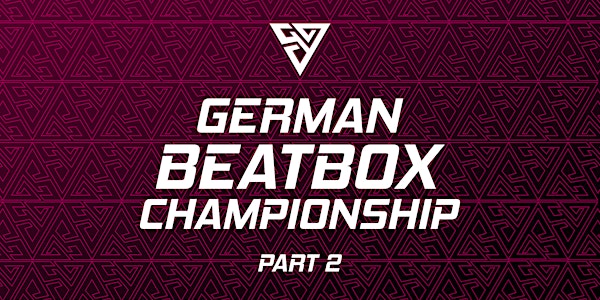 Part 2 GERMAN BEATBOX CHAMPIONSHIP 2022
Musik wie Du sie noch nie gehört hast! BEATBOX
Zeit und Ort
Veranstaltungsort
Statthaus Böcklerpark Prinzenstraße 1 10969 Berlin Germany
Karte und Wegbeschreibung
Rückerstattungsrichtlinie
Keine Rückerstattungen
Zu diesem Event
NICHT MIT DEM EVENT DES 23.09.22 VERWECHSELN (PART1)
(English below)
Event-Info:
Am 22.10.2022 lädt Beatbox Germany alle Beatbox-Begeisterten und Interessierten zur deutschen Beatbox Meisterschaft in Berlin ein. Die besten Beatboxer*innen Deutschlands kämpfen in den Kategorien Solo unter 18 , Tag Team (2vs2) und Crew, (4vs4) um den deutschen Meisterschaftstitel. Viele vergleichen die Stimmung unserer Events mit Fußballspielen. Pure Spannung und Stimmung, nur mit Musik und Drops. Die German Beatbox Championship bietet ein einzigartiges Erlebnis.
Einlass ist um 16:30 Uhr.
Tickets:
Es wird 4 Ticket Releases geben. Das heißt, 4 verschiedene Preisklassen. Je früher ihr zuschlagt desto mehr Geld könnt ihr sparen. Jetzt Tickets sichern und einen Abend voller Spannung und musikalischer Höchstleistungen genießen.
Wir rechnen damit dass es keine Abendkasse geben wird, weshalb wir empfehlen, sich so früh wie möglich ein Ticket zu kaufen.
Die Tickets sind nur für den 22.10.2022 gültig.
Die Rückgabe der Tickets ist ausgeschlossen.
Corona Auflagen:
laut derzeitigem Stand entfallen alle Regelungen und es besteht keine Impf- oder Testpflicht. Das kann sich bis zur VA aber noch ändern und wir verweisen darauf hin, dass es möglich ist, dass es erneut eine 3G Regelung oder 2G+ Regelung geben wird. Selbst bei einer Änderung bleibt die Rückgabe des Tickets ausgeschlossen.
WICHTIGE INFO FÜR BESUCHER*INNEN UNTER 18 JAHREN!
Bitte eine Begleitperson (mind. 18 Jahre alt) am Abend mitbringen. Diese Person benötigt auch ein Ticket. Bitte das Formular ausdrucken und mitbringen:
Muttizettel: https://www.dropbox.com/sh/xdl6a851u6kq6lq/AAADzxy4rMF5kE8gjrFS44Kna?dl=0
Kinder unter 6 Jahren ist der Zutritt nicht gestattet.
Wir sehen uns in Berlin!
ENGLISH
Event-Info:
On October 22, 2022, Beatbox Germany invites all beatbox enthusiasts and interested parties to the German Beatbox Championship in Berlin. The best beatboxers in Germany fight for the German championship title in the solo under 18, Tag Team and Crew categories. Many compare the atmosphere of our events with football matches. Pure excitement and atmosphere, only with music and drops. The German Beatbox Championship offers a unique experience.
Tickets:
There will be 4 ticket releases. That means 4 different price ranges. The earlier you buy, the more money you can save. Secure your ticket now and enjoy an evening full of excitement and musical excellence.
We expect that there will be no tickets available at the door, so we recommend buying a ticket as early as possible.
Tickets are only valid for the 22.10.2022. Tickets cannot be returned.
Corona rules:
According to the current status, all regulations are no longer applicable and there is no obligation to vaccinate or test. However, this can still change and we would like to point out that it is possible that there will be a 3G regulation or 2G+ regulation again. Even if there is a change, the ticket cannot be returned.
IMPORTANT INFORMATION FOR VISITORS UNDER THE AGE OF 18!
Please bring an accompanying person (at least 18 years old) with you. This person also needs a ticket.
Please print out this document and bring it with you:
https://www.dropbox.com/sh/xdl6a851u6kq6lq/AAADzxy4rMF5kE8gjrFS44Kna?dl=0
Children under the age of 6 are not permitted.
See you on the 22.10.2022 in Berlin!
Im unten angezeigten Video geben wir euch einen kleinen Vorgeschmack auf den 22.10.2022
A little teaser of what to expect from the 22.10.2022