Description
The industry event addresses manufacturers and suppliers in the automotive industry. The focus: Requesters, technicians and decision-makers of the respective organisations are invited to experience the services in connected cars. The event is hosted by the leading international consulting, engineering and testing services company P3, which is a recognized expert in connected mobility.
Participants will experience service highlights in the vehicles – including office and infotainment, navigation, safety and remote control – live and from the user's perspective. The resulting insights will help manufacturers and suppliers to further develop and improve the user experience of their services' portfolio.
Tino Mueller, Head of the P3 Competence Center Connected Mobility, says:
"Companies like Apple have demonstrated how to thrill clients. In the automotive industry, it's no longer about the number of special services but rather that those have to work seamlessly. Also, they need to be tailored to the user's needs. We've analyzed this and conducted tests and benchmarks since several years. We recommend how to proceed and build user centric service prototypes."


---
Ten lead vehicles of Mercedes Benz, Audi, Ford, BMW, Land Rover, Tesla, Opel, Volvo, Porsche and VW are available for the live testing sessions, fully equipped with all connectivity features. In addition, all current peripheral devices like Apple Watch, Amazon Echo Dot or Flic Button will be provided for the testing. P3 experts will accompany the live testing sessions and highlight which of the applied services have received positive customer feedback in particular. Based on the P3 methodology for evaluating the user experience of connected car services, in each service category a winner will be awarded.

---
From October 24 to 26, 2017, companies can book Exclusive Slots. The focus of the live testing can be tailored to the OEM's individual requirements. They will receive a handout with the research and testing results as well as the recommended action. A profound comparison of connected services like this is unique in the industry and by far exceeds the testing of single competitor vehicles typically done by OEMs.
Tickets for Exclusive Slots and further information can be obtained directly from P3:
Tino Mueller, +49 151 571 33 508, Tino.Mueller@p3-group.com.
On October 27, 2017, there will be an Open Day, allowing participants to test the vehicles without an appointment. P3 experts will be on site.
Tickets for the Open Day can be purchased via this event page.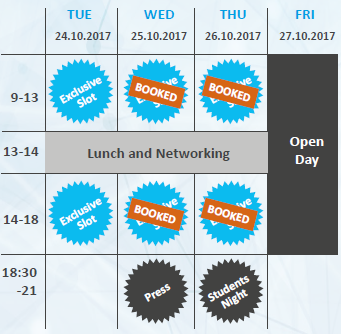 ---
Video: P3 Connected Services UX Benchmark

Dowload: Event Flyer and Press Material