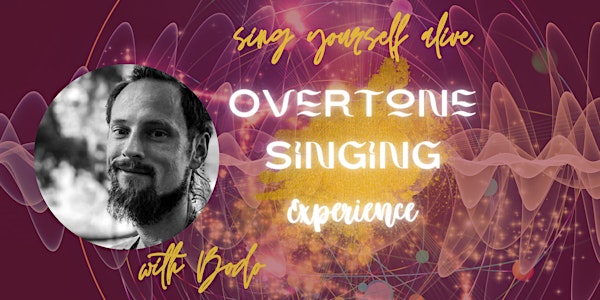 Overtone Singing Experience
Connect to yourself, your voice, your body and the cosmos through the power of singing. Learn the basic foundations in this workshop.
When and where
Location
De Lange Adem 295 Ruyschstraat 1091 DX Amsterdam Netherlands
About this event
Overtone Singing is connecting you to your voice, to yourself, to your body, to the cosmos, to the natural harmonics. In this workshop you will learn the basic foundations and techniques, so that you can go on your personal journey with the overtones afterwards. How far you will go with overtone singing depends on how committed you are to practise and explore by yourself and with others on a regular basis. This workshop is really just the beginning of life long nourishing expansive friendship between you and the overtones. You don't need any prerequisites or singing experience in order to learn overtoning.
Overtones are connecting you to archetypal frequencies of the universe and have the capacity to generate peace, harmony and stillness within oneself. The longer you are embarked on the overtone journey you will see how these qualities emanate into your life. As within so without.
The practise of Overtone Singing will empower your voice and expand its capacities, may it be your speaking voice or any other type of sinaging you practice.
Bodo is your guide in this overtone singing experience. On his own transformational & self-discovery journey for more than 13 years, he creates spaces for transformation and inner connection with a symphony of a variety of tools from Taoism, Shamanism, Breath & Energy Work, Tantric & Yogic practises, Toning & Sound Healing and much more. On this journey he heard the call of the overtones and attended a workshop in Berlin in 2018. In 2021 in a phase of deep introspection he heard the call again and since then overtone singing has been his almost daily companion. Realizing the power of this ancient practise and getting a lot of positive resonance from people wanting to learn it, Bodo has started teaching his biggest passion recently.
Practicalities: We will some short breaks and one 30 min break inbetween.
I share this workshop on gifted economy basis. My passion is Overtone singing and my intent is to reach more people with this life changing practice. Gifted economy means you get to receive all that I as facilitator for this workshop offer and then feel into your heart and decide what monetary contribution you want to give from your heart to mine. This means you can give from 11 to 111 € if it feels good for what you received in this workshop.