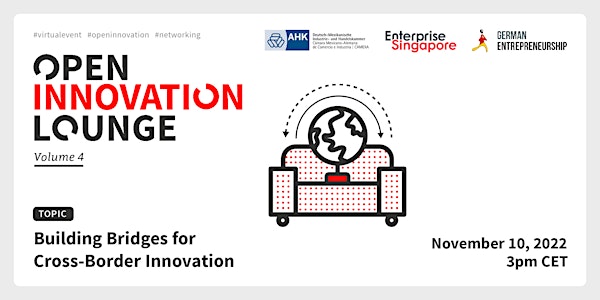 Open Innovation Lounge Vol.4
Collaboration Opportunities in International Business
About this event
In the fourth edition of our virtual event series "Open Innovation Lounge", we look at the opportunities for international collaboration. Because a globalized business world offers huge potential for companies of all sizes to develop innovations and drive progress outside their domestic market - if you're willing to collaborate across borders.
In this edition of Open Innovation Lounge, we will take a look at international opportunities and success stories in startup collaborations with our partners Enterprise Singapore and AHK Mexico on November 10.
We are especially looking forward to the insights of the following experts, who will share their experiences with the Asian, U.S. and Latin American markets:
Moderator Andy Goldstein, Founder and Executive Director of German Entrepreneurship, will then lead you through networking with opportunities to share opinions and experiences as well as address open questions. Please note that the event will be held in English.
In order to offer you the most productive exchange possible, the number of free tickets is limited - register now!
-----------------------------------------------------------------
Conditions of participation in events (face-to-face and online) and data protection information:
Video and photo recordings will be made during the event at the event site/online event platform. These recordings may be used by German Entrepreneurship GmbH for further publication or reproduction for advertising purposes, inclusion on our websites and social media platforms, or for other similar purposes. We use the tool "Zoom" to carry out the event. Please refer to our data protection guidelines. (https://drive.google.com/file/d/1yT18SUhJ2rm_1mw04O4ndyd_AfDpnx90/view?usp=sharing)
Information on data protection and data collection at our event:
As part of your participation in our event, we collect, use, and store personal data (i.e. information that relates to an identified or identifiable natural person), e.g., your name and email address, for the purpose of processing in accordance with the contract and within the framework of data protection legislation. Participation in our event and the associated data use, storage, and processing of your company-related and personal data, pursuant to Art. 6 (1) lit b GDPR , also includes the taking and publication of photos and videos of your likeness, the display of your name and photo on the event platform, as well as their publication or reproduction for advertising purposes, inclusion on our websites and social media platforms, or for other similar purposes by German Entrepreneurship GmbH.
Furthermore, we use the email address you provide to us when registering for the event exclusively for the electronic sending of advertising for our own services that are similar to those you have already purchased from us, provided you have not objected to this use. You can object to the use of your email address at any time. Your objection can be exercised by sending a corresponding message to our email address (see imprint).
For further information on your rights as a data subject and on data protection, please see (https://www.german-entrepreneurship.de/datenschutz/). Publicly available and non-confidential information in press releases and social media publications, where you do not object to further use, may be published by us. Please note: For online events, your photo and name will be displayed on the event platform.