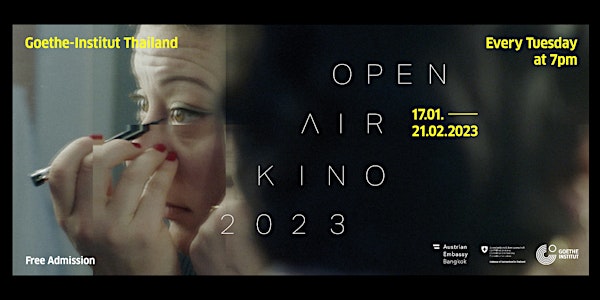 Open Air Kino 2023
Enjoy award-winning cinema in our cozy open air garden!
By GOETHE-INSTITUT THAILAND
Date and time
Tuesday, January 31 · 7 - 9pm +07
Location
Goethe-Institut Thailand 18/1 Soi Sathon 1, Lane 2 Khet Sathon, Krung Thep Maha Nakhon 10120 Thailand
About this event
Open Air Kino 2023 - Cinema and Migration
Cinema and migration share a special bond. Contemporary cinema is deeply influenced by migrant directors depicting a world on the move, and accounts of deeply personal stories reflecting the dramatic reality of millions of people.
The Open Air Kino 2023 in cooperation with the Embassy of Austria and the Embassy of Switzerland features films and documentaries that capture the promise and challenges of migration in its many forms. Over the course of six weeks from January 17 to February 21, every Tuesday at 7 PM, we will take our audiences on a unique journey with these award-winning German-language films and documentaries.
About the organizer
The Goethe-Institut Thailand was founded in 1960. It was the first Goethe-Institut in Southeast Asia.
 
We promote and encourage cultural collaboration between Thailand, Germany and Europe by  making contributions to festivals and organizing cultural events, exhibitions, productions and artist exchange in the fields of film, dance, music theatre, exhibitions, literature and translation.

 
The Goethe-Institut Thailand runs German language courses 7 days a week. Exams can be taken at all levels. The Goethe-Institut works  in collaboration with the Thai education authorities, universities and schools. We regularly offer  training and further training for teachers of German and our course participants can take part in our language and cultural activities.
 
 
Our modern library has more than just books to offer. We have a broad selection of board games and DVDs and our visitors can gain access to information about Germany via Tablets. We work in close collaboration with other libraries in Thailand.
 สถาบันเกอเธ่ ประเทศไทย
สถาบันเกอเธ่ ประเทศไทยก่อตั้งขึ้นครั้งแรกในปี ค.ศ. 1960 ถือเป็นสถาบันเกอเธ่แห่งแรกที่ก่อตั้งขึ้นในภูมิภาคเอเชียตะวันออกเฉียงใต้
 
หนึ่งในเป้าหมายหลักของเราคือการส่งเสริมการแลกเปลี่ยนทางวัฒนธรรมระหว่างประเทศไทย ประเทศเยอรมนี และสหภาพยุโรปโดยการจัดกิจกรรมทางวัฒนธรรมและเทศกาลหลากหลายรูปแบบ รวมไปถึงการแลกเปลี่ยนทางวัฒนธรรมในด้านภาพยนตร์ การเต้น ดนตรี การละคร นิทรรศการ วรรณกรรม และการแปล เพื่อเผยแพร่วัฒนธรรมเยอรมันในประเทศไทยให้เป็นที่รู้จักยิ่งขึ้น นอกจากนั้นยังสนับสนุนด้านองค์ความรู้ให้กับนักเรียนในประเทศไทยผ่านการจัดเทศกาลภาพยนตร์วิทยาศาสตร์อีกด้วย
 
สถาบันเกอเธ่ ประเทศไทยเปิดสอนหลักสูตรภาษาเยอรมันและจัดสอบวัดระดับในทุกระดับชั้น โดยให้บริการทุกวันตลอดทั้งสัปดาห์ สถาบันเกอเธ่ฯ ได้ร่วมงานกับหน่วยงานของภาครัฐ มหาวิทยาลัย และโรงเรียนอย่างใกล้ชิด มีการจัดอบรมเพื่อพัฒนาครูสอนภาษาเยอรมัน รวมไปถึงกิจกรรมด้านภาษาและวัฒนธรรมสำหรับนักเรียนอย่างต่อเนื่อง
 
ห้องสมุดของเรามีการตกแต่งอย่างทันสมัยและมีหนังสือมากมายไว้ให้บริการ นอกจากนั้นยังมีเกม ดีวีดี และแท็ปเล็ตที่พร้อมให้ข้อมูลเกี่ยวกับประเทศเยอรมนีไว้คอยบริการอีกด้วย