Eventinformationen
Veranstaltungsort
Goethe-Institut Thailand
18/1 Soi Sathon 1, Lane 2
Khet Sathon, Krung Thep Maha Nakhon 10120
Thailand
Zu diesem Event
Finally, it's about time again!
On every Tuesday evening from the 11th January to the 22th March, all visitors can come to the garden in the Goethe-Institut again to watch the latest interesting, award-winning and extraordinary international movies and to rediscover the almost 100-year old cinematic oeuvre with us.
Especially during the pandemic, it is utmost important to strengthen our network. Therefore, we are very glad to find new partners this year.
Apart from the Austrian and Swiss embassy, we also have the French embassy together with the Alliance Francaise and the embassy of Luxembourg on board.
Moreover, the Bangkok International Documentary Awards event and film festival "BKK Doc Awards" is also our guest and three award-winning films from its latest edition in December 2021 will be screened at our festival.
To commemorate the ingenious American musician Bruce Gaston, who lived in Thailand and died last October, we will screen one of the first movies, which was shot in Thailand. In 1991, Bruce Gaston composed the film music in Bangkok for the silent movie CHANG, which was produced in 1927 and in which the Thai Fong Naam Orchester was recorded.
This year's kickoff will be the exclusive preview of a very special film, which was in parts shot in 2021 during the pandemic-related closure at the Goethe-Institut. THE MAESTRO, produced by and with Bangkok all-round talent Somtow Sucharitkul, celebrated its international premiere in September 2021 at the Oldenburg Film Festival in Germany. Meanwhile this pandemic-related drama movie has become a worldwide festival favorite and has received numerous prizes. Maestro Somtow and his team will be personally present during the opening of the festival.
The connecting elements of all movies is the topic of freedom in the broadest sense. The contributions from Austria and Switzerland are the movies titled GREAT FREEDOM and CAGED BIRDS
In the well-worth seeing documentary DEAR FUTURE CHILDREN, three young women in Chile, Hongkong and Uganda are fighting the almost hopeless battle for social fairness, continued existence of democracy and against the devastating consequences of climate change. In the fairy-tale psychodrama UNDINE the main protagonist managed to free herself from the old curse. The young actress Paula Beer received an award in the category of Best Actress at the 2020 European Film Prizes.
By contrast in CONTRA, a female student successfully managed to resist against sexist and racist discrimination with humor. The movie is the adaptation of the very successful French comedy LE BRIO from the year 2018, which will be screened during the Open Air Kino festival in Alliance Francaise. Likewise in INVISIBLE SUE the social struggle of a young woman to survive is the focus of the story, during which the highly talented loner Sue becomes the superheroine.
The absolute highlight this year is the film BERLIN ALEXANDERPLATZ, the congenial film adaptation of the world-famous novel from Alfred Döblin (1929), in which the film director Burhan Qurbani masterly set the scene.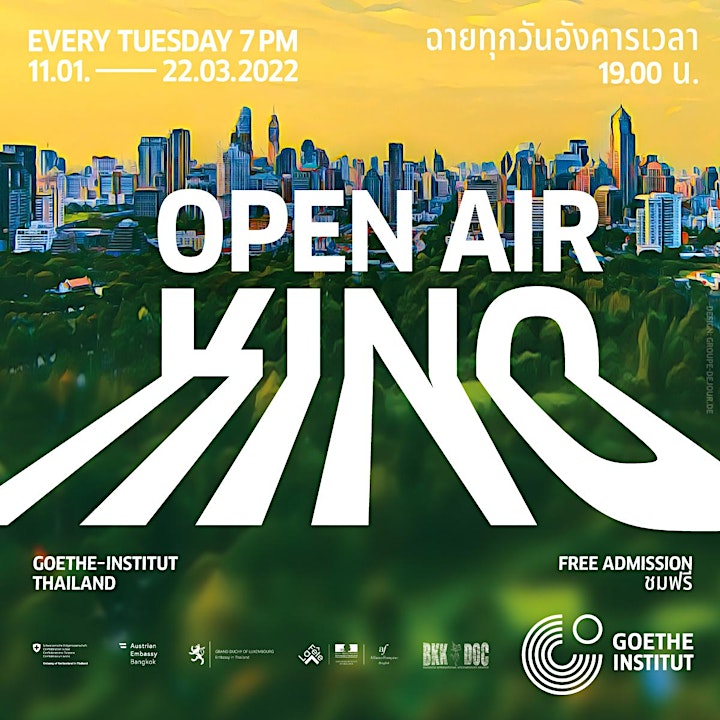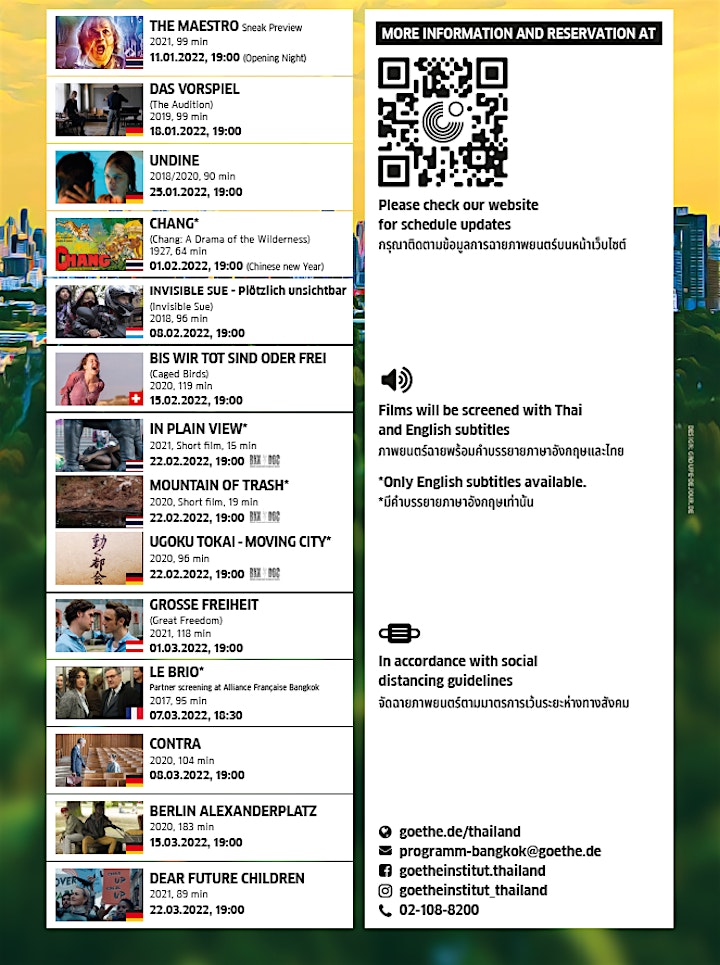 Datum und Uhrzeit
Veranstaltungsort
Goethe-Institut Thailand
18/1 Soi Sathon 1, Lane 2
Khet Sathon, Krung Thep Maha Nakhon 10120
Thailand