Dieses Event ist beendet.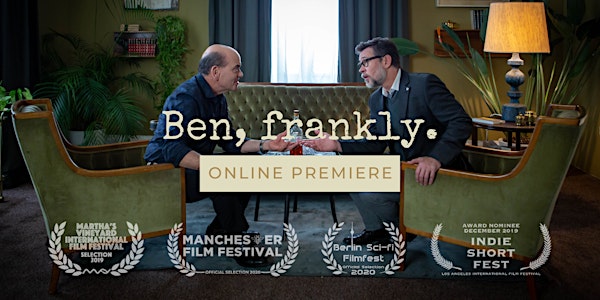 Online Premiere & Artist Panels - "Ben, frankly."
Ben, frankly. goes online. Join us for panels with the actors Connor Trinneer and Robert Picardo, screenwriter Seth Kramer and many more.
Zu diesem Event
"Ben, frankly." goes online for everyone to see.
We have partnered with the Berlin Sci-fi Filmfest to spend some quality time with the filmmakers, actors and all of you to talk about filmmaking, SciFi and our special little movie.
We are joined by film industry professionals who are going to share behind the scenes stories and answer your questions.
How to join:
Join us and submit questions for our guests via the live chat.
To actively participate in the chat you will have to be logged into YouTube.
The link to the event will be available an hour before the event.
The event will be held in English.
Die Veranstalter und Filmemacher sprechen deutsch. Ihr könnt also Fragen auch auf Deutsch stellen.
Our guests:
Robert Picardo, actor. Has appeared in many different TV series, movies and plays. "The Wonder Years" earned him an Emmy-nomination and fans know and love him as Richard Woolsey in the Stargate franchise. Fans all over the world love him for his portrayal of "The Doctor," the Emergency Medical Hologram or (EMH) in Star Trek: Voyager.
Connor Trinneer, actor. Has appeared in popular TV Series like NCIS, Criminal Minds, The Mentalist, American Odyssey and many more. He has even lent his voice to a character in a video game. He is best known for playing two different characters in the Stargate franchise and the part of Charles "Trip" Tucker III on Star Trek Enterprise.
Seth Kramer, screenwriter of Ben, frankly. He lives and works in Chicago, was a finalist for the Writer's Alliance Prize and received the George R. Kernolde Award.
Gerd Nefzer, SFX Supervisor, he worked on films like, Alien vs. Predator, The Tributes of Panem, The First Avenger - Civil War, Die Hard 4, Buffalo Soldiers. For the film Blade Runner 2049 Gerd received an Oscar.
Ante Dekovic, VFX Supervisor, he worked on productions like Tributes of Panem, 2012, Games of Thrones, Anonymus, Fast and Furious 5, Star Trek - Picard and Star Trek - Discovery. For Star Trek Discoyery, Ante and the VFX team were nominated for an Emmy. Currently Ante is working on the completion of the 3rd season of Star Trek - Discovery.
Isabella Hermann, is a political scientist and SciFi fan. She has a PhD in International Relations and speaks and writes about how science fiction interacts with world politics and reflects social challenges. She is one of the festival directors of the Sci-fi Festival Berlin.
Alexander Pfander, is a director and screenwriter. He designed the SciFi web series Mission Backup Earth. His interest is storytelling and he is festival director of the Sci-fi Festival Berlin.
Björn Sülter, author, publisher and editor at various magazines. He is joining us to talk about his new book about Star Trek Enterprise of the Star Trek Chronic.