Dieses Event ist beendet.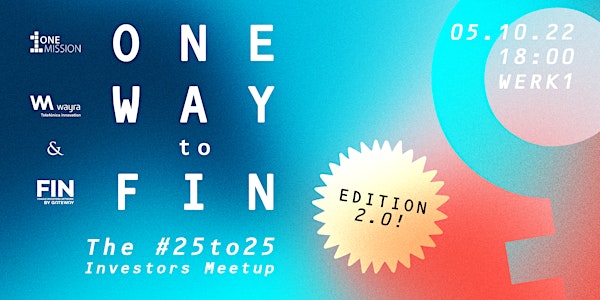 ONE WAY to FIN - Edition 2.0
ONE WAY to FIN – The #25to25 Investors Meetup – Edition 2.0
Von ONE MISSION, Wayra, FIN
Datum und Uhrzeit
Mi., 5. Okt. 2022 18:00 - 22:00 CEST
Veranstaltungsort
Wayra Munich Kaufingerstraße 15 80331 München Germany
Zu diesem Event
ONE MISSION, WAYRA and FIN – the Female Investors Network are inviting you to the 2nd edition of the #25to25 Female Investors Meetup at WERK1 – the most startup friendly place in Munich.
We join forces and pursue our mission together to make the startup world more diverse. At the event itself you can expect top-notch startup pitches, strong investors and a great female founder community – which we had already brought together in the first edition in February.
The agenda for the evening is the following:
06:00 pm: Admission and Welcome Drink
06:30 pm: Welcome and Introduction of ONE MISSION, Wayra and FIN
06:45 pm: Startup Pitches incl. Q&A
07:15 pm: Networking Break
07:30 pm: Startup Pitches incl. Q&A
08:00 pm: Open End with Startup Booths
The following startups are featured in our 2nd edition – we are more than happy to welcome:
Also, a big thank you goes out to our main sponsor remberg – thank you so much for supporting our mission! And a big thank you to our location partner WERK1 ❤️
Get in touch with 6 high-class female founders and co-founders of startups from the ONE MISSION, Wayra and FIN network. Meet investors and a great community of female founders joining forces to drive diversity within the startup ecosystem.
Where? WERK1 Café (Atelierstraße 29, 81671 Munich, Ground floor)
Who? Investors, Startups, Change Makers, Female Leaders
Who are we?
ONE MISSION – For more gender diversity in the German startup ecosystem ✨
WAYRA – Telefónicas Open Innovation Hub 💫
FIN – The Female Investors Network by Gateway Ventures 🌟