ONE SQUARE METER HOUSE (1 QM Haus)

Saturday, March 31, 2012 from 10:00 AM to 6:00 PM (CEST)
Event Details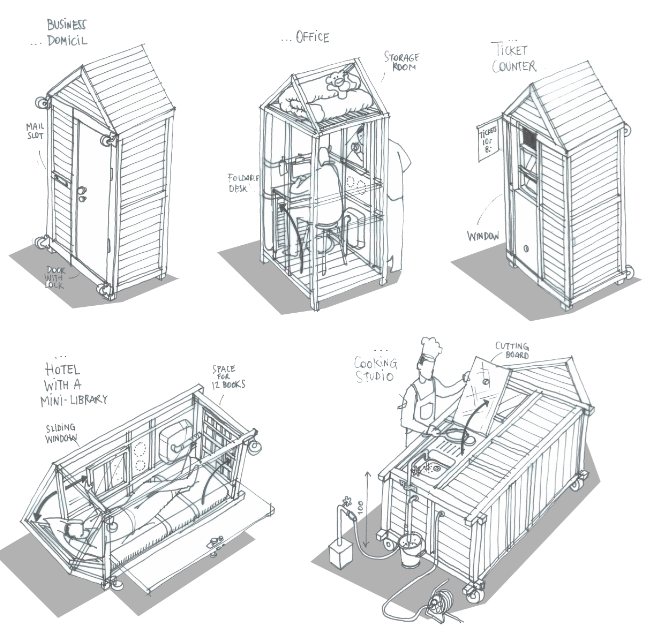 New HARTZ IV MÖBEL coming!
Say hello to the ONE-SQM-HOUSE
- the very first DIY-House
made by Van Bo.
The One-SQM-House is just 70 cm x 100 cm, the Height is 2 metres, just like a tiny telephone booth. A House with a window and a door, which you can lock up. A House with a matress, so you can sleep in it. A House with cooking plates on the outside wall, so you can have a BBQ Party in Summer. A House on rolls, so you stay mobile and can put it whereever you need it: In your Open Space Office (as a think tank/phone Zone) or as a Guestroom for your home (turn the ONE SQM House down and you can sleep in it). To say it short: The ONE SMQ HOUSE is the smallest House of the World, which provides you maximum freedom in a minimum space.
After succesfully building the prototype, the ONE SQM HOUSE will be added to the HARTZ IV MOEBEL Collection - a social DIY Movement.
The Workshop is free. Bring your friends! No Skills or tools required! Amateurs welcome!
Why do we need the Protoype?
1. We want to test the ONE SQM HOUSE as an additional Space for the Betahaus Coworkers.
2. The prototype will be exhibited at the BMW GUGGENHEIM LAB on 30th of June 2012 in Berlin.
Of course, you can build your own ONE SQM House. All you have to do is paying the material: 250 Euro (order the Material ticket)
Build more - buy less! Konstruieren statt konsumieren. Be part of a cosy movement!
Yours,
Van Bo
Cancellation Policy:
Once you ordered the Material Ticket, you cannot cancel it, even if you won't come because of illness or whatever. The money will be used to buy wood.
Attendee List
Sort by:

Date

|

First Name

|

Last Name
Organizer
Le Van Bo (34) ist Architekt und Stratege bei dan pearlman Markenarchitektur, wo er spezialisiert ist auf City Branding und Markenakademien. Als freier PR-Berater hat Le Van Bo u.a. für Gravis das CI-Relaunch begleitet und PR-Events für die BVG und den SOS-Kinderdorf e.V. geleitet.
Seit vielen Jahren engagiert sich Le Van Bo unter dem Pseudonym Prime Lee für Jugendprojekte wie etwa "School Talks", eine Berufsberatung für Schüler als Talkshow.
2010 initiierte der Sohn einer laotischen Flüchtlingsfamilie das demokratische Designprojekt Hartz IV Möbel. Seine Möbel wurden ausgestellt bei der Taiwan Design Expo 2010 und im Gewerbemuseum Winterthur.