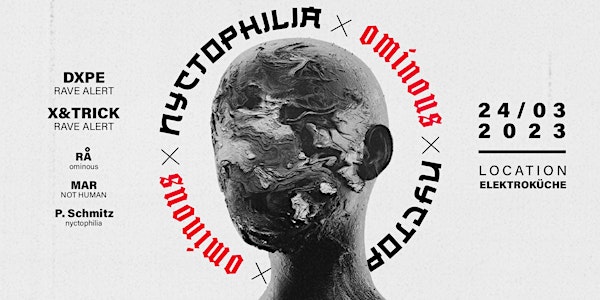 ominous x nyctophilia w/ DXPE & X&TRICK
The long friendship between the two organizers prompts the connection of the two event series. ⤫ ominous x nyctophilia ⤫
Datum und Uhrzeit
Fr., 24. März 2023 23:00 - Sa., 25. März 2023 07:00 CET
Veranstaltungsort
Elektroküche Siegburger Straße 110 50679 Köln Germany
Rückerstattungsrichtlinie
Rückerstattungen bis zu 1 Tag vor dem Event
Zu diesem Event
8 Stunden

Mobile E-Tickets
Friends of the night!
The long friendship between the two organisers prompts the connection of the two event series. Rave Alert has been with us on the road for a long time and is now part of the event again! And as if that wasn't enough, we are pleased to welcome the young DJ MAR to Cologne for the first time.
⤫ DXPE [Rave Alert]
⤫ X&TRICK [Rave Alert]
⤫ RÅ [ominous, Fvll Recordings]
⤫ MAR [Not Human, Ataraxia | Berlin]
⤫ P. Schmitz [nyctophilia]
Support from our beloved Residents RÅ and P. Schmitz.
Let's start into a full fired and powerful night Elektroküche Cologne.
——————
feel free and come as you are | respect privacy | no GBL/GHB