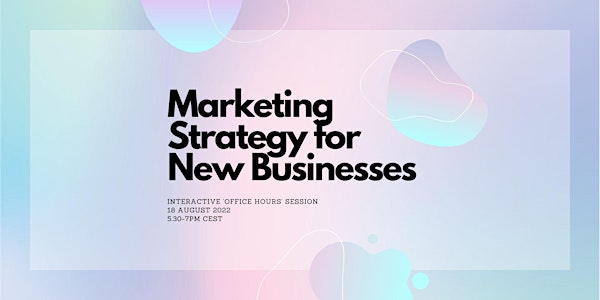 Office Hours: Marketing for New Businesses
Workshop the unique challenges and questions you have around how to market your business as a new, aspiring or early stage business owner.
About this event
Having a solid marketing approach is key to the success of any business, but with so many platforms to contend with and trends to stay on top of, where do you even start?
You might be asking yourself questions like:
How should I position my brand and communicate my message so it resonates with my ideal customer?
How do I generate leads and create consistent business?
What's the best way to get visible and create awareness for my business?
What is a marketing and content strategy and how do I create one?
How can I maximise my time and marketing efforts so that my team and I don't burn out?
Office Hours is not a masterclass or training but an interactive session designed for you to bring a long your unique marketing and business questions and get coached and mentored around on these areas in an intimate group setting.
How it works: The session will be held via Zoom and be 60-90 minutes in length. Numbers will be capped at 6 attendees so that everyone feels safe to openly share about their business and marketing challenges.
So we can keep the topics relevant, this is specifically for aspiring or new business owners as well as anyone who is finding it difficult to create consistency in their business.
About your Mentor: This event will be facilitated by Business & Marketing consultant, Helen Kartika. Helen has a wealth of experience and knowledge having spent 10 years in the marketing, PR and social media industry, working for some of the world's biggest brands and agencies across Sydney, London and Berlin. She has also run her own marketing company, servicing small to medium sized businesses across a range of industries for the past 4 years. Helen also lectures at one of Berlin's most reputable tech and marketing schools, having educated over 150+ individuals from diverse backgrounds.