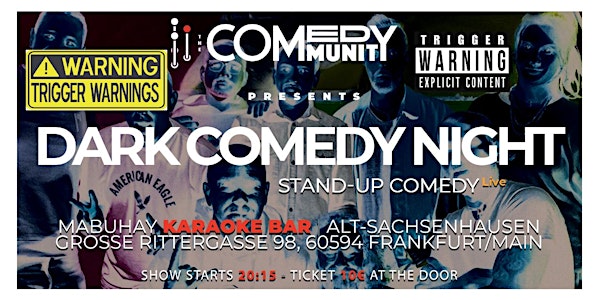 Nr.81 - Dark Comedy Night in Mabuhay Bar
Join the Comedy-Community!
When and where
Location
Mabuhay Karaoke Bar Große Rittergasse 98 60594 Frankfurt am Main Germany
About this event
Like in every Community, we as The Comedy Community got some, but not a lot - well, umm... let`s say .... Comedians with a different, special kind of humor.
The kind of humor that makes otherwise peaceful people throw metal ashtrays at the stage or celebrities smack the host at the Oscars.Similar to their attire, their own undoubtedly questionable taste in humor is nothing that would make a regular show a pleasant evening, without cringe-worthy moments and offensive jokes.
Just to make this clear:
This is not the right show for the easily offended and absolutely not a show one would see on Netflix or primetime TV.
But also: Dark Humor is n o t telling explicit and offensive material on stage only to shock the audience for the sake of shocking the audience and it`s definitely n o t the time and place where deranged minds are welcome and given the opportunity to spew their bile as they do so often on social media at people at the other side of the world they will ever meet again - while pathetically laughing at rape jokes, slut-shaming and an endless tide of depressing misogyny.
If you are looking for that - go somewhere else. Or better - go to therapy!
Like Stand-Up Comedy, it`s an art form that has no boundaries, but also has to follow a set of rules and framework: racist, sexist, xenophobic, diverse-/trans-/homophobic, and/or discriminatory material in any kind of form and adresee will not be tolerated.
All fellow comedians and the audience are welcome and encouraged to take their stand especially if the guy/girl on stage crosses the line and confuses free speech with hate speech.
If you have always wanted to take the first steps into a bigger, exciting world - we are glad to open this door for you!
If you have already performed, got the hang out of it, and are looking not only for a home base but also for an inspiring and supportive environment in a friendly community - you have come to the right place!
If you love stand-up the same as we do and you need to prepare for big events with high expectations - we got the right stuff for you!
Send a WhatsApp to Meilor Bondoc at +491788770758 or email him at info@thecomedycommunity.de and we will see how we can make it happen!
First-timers, newcomers, and experienced Comedians are welcome!