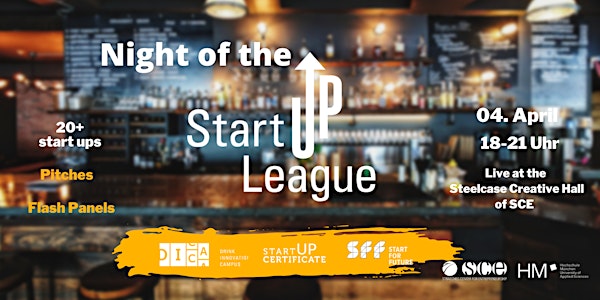 Night of the Startup League Summer 2023
Get in touch with the start ups of the best university accelerator programs 2022 in Germany
By Strascheg Center for Entrepreneurship (SCE)
Date and time
Tuesday, April 4 · 6 - 9pm CEST
Location
Steelcase Creative Hall Heßstraße 89 Strascheg Center for Entrepreneurship 80797 München Germany
About this event
Night of the Start-up League
In our unique Night of the Start-up League the start ups of the best university accelerator program set 2022 in Germany are pitching their concept & talk about their journey from the first idea to the ready-to-market solution.
You will also get in touch with the new start ups teams, which will enter the accelerator programs of the University of applied sciences Munich (Hochschule München HM) and the SCE (Strascheg Center of Entrepreneurship) in Summer semester 2023.
They are all part of the exclusive Start-up-League, which gives them access to our professional new venture building at the SCE, our various funding & development programs (Start-up Zertifikat, DICA, Start For Future) and the public, governmental programs (u. a. EXIST, FLÜGGE).
You already want to have a look at our startups? Click here: www.sce.de/startupleague
We are looking forward to an evening of inspiration, fascinating pitches & powerful networking!
The team of HM/SCE new venture building
Deutsch
In unserer einzigartigen Night of the Start-up League pitchen die Start-ups des besten deutschen Hochschul-Accelerator-Programms 2022 ihre Konzepte und sprechen über ihren Weg von der ersten Idee bis zur marktreifen Lösung.
Außerdem lernen Sie die neuen Start-up-Teams kennen, die im Sommersemester 2023 in die Accelerator-Programme der Hochschule München (HM) und des SCE (Strascheg Center of Entrepreneurship) einsteigen werden.
Sie alle sind Teil der exklusiven Start-up-League, die ihnen Zugang zu unserer professionellen Gründerförderung am SCE, unseren verschiedenen Förderprogrammen (Start-up Zertifikat, DICA, Start For Future) und den öffentlichen, staatlichen Programmen (u. a. EXIST, FLÜGGE) ermöglicht.
Sie wollen sich schon jetzt unsere Start-ups ansehen? Dann klicken Sie hier: www.sce.de/startupleague
Wir freuen uns auf einen Abend voller Inspiration, spannender Pitches & starkem Networking!
Das Team von HM/SCE Gründungsförderung
What is the Innovation Café?
The Innovation Café of the SCE (Strascheg Center of Entrepreneuership) is the monthly networking event in Munich for people interested in starting a business, founders and all those who want to turn their ideas into reality.
Every first Tuesday of the month, at 6 p.m., we invite you to the Steelcase Creative Hall at SCE for open networking and exchange.
Current start-ups at SCE, founders from the alumni network and experts inform, involve & inspire with their key notes, in panel discussions and Q&A sessions.
Our Open pitch format gives everyone the chance to introduce themselves and their idea in one minute before networking and sharing. No registration, no pitch deck required.
Of course, the SCE startup advisor:in team will also be at the café. They will be happy to answer your questions about founding or entrepreneurship, introduce you to the SCE programs and arrange an initial consultation with you.
Feel free to bring friends, invite others who like you are thinking of starting their own business.
You can also participate online via Zoom, although here the networking is limited to the guests at Zoom.
Deutsch
Was ist das Innovations-Café?
Das Innovations-Café des SCE (Strascheg Center of Entrepreneuership) ist die monatliche Netzwerkveranstaltung in München für Gründungsinteressierte, Gründer:innen und alle die, die ihre Ideen verwirklichen wollen.
Jeden ersten Dienstag im Monat laden wir um 18 Uhr Uhr in die Steelcase Creative Hall am SCE zum offenen Netzwerken und Austauschen ein.
Aktuelle Start-ups des SCE, Gründer:innen aus dem Alumni-Netzwerk und Experten informieren, involvieren & inspirieren mit ihren Key Notes, in Panel Diskussionen und Q&A sessions.
Unsere Open pitch Format gibt jedem die Chance, in einer Minute sich und seine Idee vorzustellen, bevor es in das Networking und den Austausch geht. Keine Anmeldung, keine Pitch deck notwendig.
Natürlich ist das Team der SCE Gründungsberater:innen auch im Café. Sie beantworten dir gerne deine Fragen rund um die Gründung oder Entrepreneurship, stellen dir die SCE Programme vor und vereinbaren gerne eine Erstberatungstermin mit dir.
Bringe gerne auch Freunde mit, lade andere mit ein, die wie du dem Gedanken spielen, selbst zu gründen.
Ihr könnt auch online via Zoom teilnehmen, wobei hier das Networking sich auf die Gäste im Zoom beschränkt.
Rechtlicher Hinweis für die Gäste dieser Innovations-Café- Ausgabe:
Mit der Teilnahme am Innovations-Café erhält das Strascheg Center for Entrepreneurship (SCE) von dem Besucher ohne besondere Vergütung die ausschließliche, zeitlich und räumlich unbeschränkte sowie unwiderrufliche Berechtigung Bild-/Videoaufnahmen des Besuchers herzustellen sowie diese Aufnahmen öffentlich zugänglich zu machen.
Legal note for guests of the Innovations-Café edition:
With the participation in the Innovation Café, the Strascheg Center for Entrepreneurship (SCE) receives from the visitor, without special compensation, the exclusive, temporally and spatially unlimited as well as irrevocable right to produce image/video recordings of the visitor as well as to make these recordings publicly available.
About the organizer
Das Strascheg Center for Entrepreneurship (SCE) der Hochschule München bietet Bildungs- und Forschungsprogramme im Bereich Entrepreneurship, fördert Start-ups, Innovationsprozesse und die Entwicklung von unternehmerischen Persönlichkeiten. Das international vernetzte SCE unterstützt Gründungen aus der Wissenschaft und begleitet junge Unternehmen von der Ideenentwicklung bis zur marktfähigen Innovation. Daneben unterstützt es Unternehmen, neue Wege zu gehen und mit Start-ups strategisch zu kooperieren. Unter dem Motto "Responsible Entrepreneurship" trägt das SCE mit seinen Aktivitäten zu einer aktiven impact-orientierten Zukunftsgestaltung unserer Gesellschaft und zur Etablierung einer umfassenden Gründungskultur bei. SCE und Hochschule München belegten im Gründungsradar-Ranking seit Erscheinen ausschließlich Spitzenplätze und wurden bei EXIST III, IV und EXIST Potentiale prämiert. Weitere Informationen unter www.sce.de
The Strascheg Center for Entrepreneurship (SCE) of the HM Hochschule München University of Applied Sciences offers training and research programs in the field of entrepreneurship, and encourages innovation processes and the development of entrepreneurial personalities. SCE supports business start-ups from science and guides young businesses from idea development to marketable innovation. In this way SCE actively contributes to an impact-oriented shaping of the future of our society and to establishing a comprehensive start-up culture. For further information visit www.sce.de