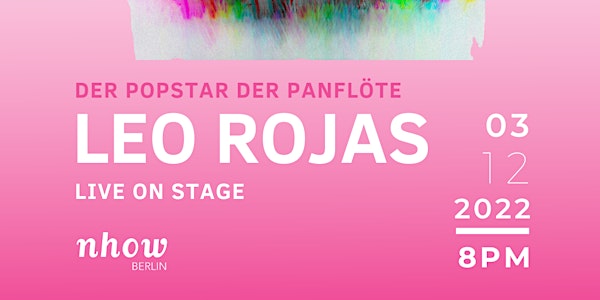 nhow Music Night CHRISTMAS SPECIAL
3 Live Konzerte, 3 verschiedene Stile und wie immer gratis! ***Das ist die nhow Music Night***
When and where
Location
nhow Berlin Stralauer Allee 3 10245 Berlin Germany
About this event
Kann es denn sein? Ist schon wieder Weihnachten?!?
JA! Und wir läuten die Weihnachtszeit mit einem echten (Weihnachts)Sternchen ein:
LEO ROJAS LIVE ON STAGE
(PANFLÖTE)
Mit über 900 Millionen Youtube Klicks, Gold Awards, über 200.000 verkauften Tonträgern und ausverkauften Shows weltweit ist Leo Rojas nicht nur einer der letzten echten Indianer, sondern auch "Der Popstar der Panflöte". Aber auch 33 weitere native Flutes beherrscht der gebürtige Ecuadorianer wie kein anderer. Seine magischen Wurzeln sind bis heute der Grund für Leo Rojas's intensive Verbindung zur Natur. Es ist der "Nature Spirit" und die Kraft der vier Elemente, die man in den neuen Songs von Leo Rojas ab der ersten Sekunde spürt.
Mit seinem neuen Tracks präsentiert der Multiinstrumentalist sein gesamtes Talent und seine musikalische Vielfalt. Tanzbare Clubsongs, charttaugliche Radio-Hits mit Latin-feeling, aber auch emotionale Songs mit Tiefgang und dem Anmut großer Hollywood-Soundtracks finden auf seinen Longplayern ihren Platz. Inspiration hat Leo Rojas unter anderem bei seinen zahlreichen Reisen und Auftritten auf der ganzen Welt gefunden. Er spielte mehrfach ausverkaufte Shows in China, Kyrgyzstan, Iran, Algerien, Polen, Frankreich und Tunesien.
Auch on Stage:
DOMINIK TRAMPF (DEUTSCH-POP)
Laut Dominik gibt es drei Ereignisse im Leben, die man gesehen haben muss:
1. Die Geburt seines Kindes
2. Die Verkündung des Weltfriedens
3. Dominik Trampf live
Glücklicherweise kann eine der drei Sachen schon diesen Samstag von der Liste gestrichen werden!;-) Der energiegeladene Berliner fährt seinen ganz eigenen Sound aus Gitarren, rhytmischen Beats und energetischen Vocals, lässt dabei aber nie die positive Message oder den Ohrwurm aus!
Nicht verpassen!
DOROTHEA EISEL (SWING)
"Ich glaube daran, authentisch, offen, mutig, verletzlich und dankbar für Gelegenheiten zu sein, Momente mit anderen zu teilen. Ich glaube, dass künstlerischer Ausdruck durch Singen, Tanzen, Schauspielern oder manchmal einfach nur Lächeln einige der besten Möglichkeiten sind, die Welt besser und heller zu machen."
https://www.youtube.com/@dorotheaeisel3689
Eintritt frei!
Samstag, 3. December 2022 | 8pm
General English
Every first Saturday of the month: 3 live acts, 3 different music styles!
Free entry!