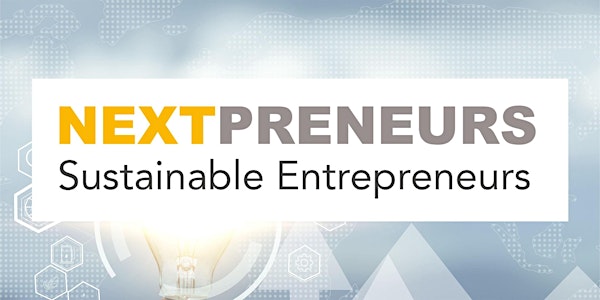 NEXTPRENEURS Summit 2022 - The BarCamp for Sustainable Entrepreneurship
Sales Have Ended
Ticket sales have ended
Thank you very much to be part of our Netxtpreneurs community and to join us in our first Sustainable Business BarCamp! We are happy welcome to you on 6-7th May in BarCamp. You will get the access to "Sessions Plan" on 24th April and fill it with your topic and information about you. Barcamp sessions are activity space for participants that allow a deeper and more meaningful interaction amongst the participants. If you never been in a Barcamp pls visit our Homepage www.nextpreneurs.org. You can also watch the youtube video: https://www.youtube.com/watch?v=-0Owz-hTLVY We are happy meeting you on 7th May in our BarCamp! The main questions of BarCamp are: How can we help as entrepreneurs / start-up´s, to crate more sustainable and digital business models to reach UN Sustainable Developing Goals (SDG)? What can we do for more Sustainable Businesses in all three dimension of sustainability social economic and ecological in the world of digital transformation?
Nextpreneurs Summit -The BarCamp for Sustainable Entrepreneurship, on 6-7th May 22, Social Sustainable Start-up´s, Network & Community
About this event
Our mission is to create opportunities for everyone involved in digital and sustainable developing to reach their own future visions. We are looking for new stakeholders, who act in this direction and absorb sustainability and digitalization in combination on the right way. If you want to be nextpreneurs community member, please join our Nexpreneurs Community. We are stronger together!
Please get a ticket first to have an access. You will automatically receive a link to the NEXTPRENEURS BarCamp Sessions Plan with the confirmation by email. Sessions Plan is an online document (google docs) to use collaboratively! YOU design your session: As the session owner, insert your title/questions to the session plan in order to discuss interactively with the participants.
Is this your first BarCamp? Don't worry, it's easy to use and a lot of fun! Down is a video to explain.
For more information go to www.nextpreneurs.org