Dieses Event ist beendet.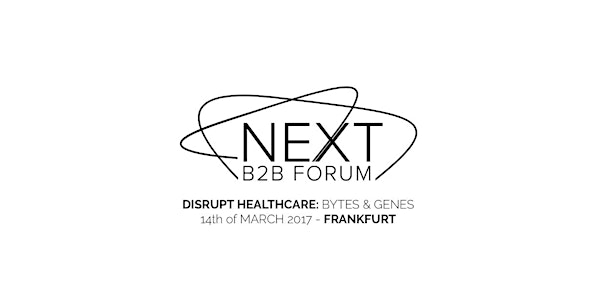 NEXT B2B FORUM - BYTES & GENES
Zeit und Ort
Veranstaltungsort
CODE Center of Diagnostic Excellence Goetheplatz 9-11 60313 Frankfurt am Main Germany
Karte und Wegbeschreibung
Rückerstattungsrichtlinie
Beschreibung
the next b2b forum offers corporations & startups the ultimate stage to discuss & create the future of their industry. it's about seeing & taking opportunities - and not only the usual networking & drinks. after disrupt finance, disrupt for impact, disrupt mobility and disrupt media, the next edition is about disrupt healthcare. our special guest this evening is philipp rösler, former vice chancellor and health minister of germany and now member of the managing board of the world economic forum (wef) in switzerland.
the evening of bytes & genes will cast light on the symbiosis of healthcare and technology. which impact will it have? will we live forever? our goal is to leverage the expertise of our guests - movers & shakers from different industries and raising public awareness on the necessity of innovation in healthcare, respective ethical questions & possible implications.
so, if you're a technology creator, clinician, go-to-market expert or a digital health enthusiast - come and join us for an evening full of inspiration paired with hands-on knowledge, good food and good wine.
for more information and updated agenda please visit www.nextb2bforum.org/healthcare.

This event is organised by the Global Shapers Frankfurt Hub pro bono. All ticket proceeds are used to cover our costs and fund our social projects.