NEWTRITION X. - The 3rd Innovation Summit exclusively dedicated to Personalised Nutrition - 12 October 2021
About this event
It's time to take a personal look at nutrition! At Newtrition X. 2021, the Innovation Summit for Personalised Nutrition, you will not only get an overview of the state of science and technology. The focus this year is primarily on putting it into practice.
An interdisciplinary exchange takes place with visionary people who focus on implementation in practice. A lot of space is given to intensive discussions and networking. Join the discussion!
The 3rd Innovation Summit Personalised Nutrition will take place on
Tuesday, 12 October 2021
as a hybrid event within the framework of Anuga.
Venue: KOELNMESSE, Congress-Centrum Nord, Deutz-Mülheimer Str. 111, 50679 Cologne AND online as livestream.
The congress will be planned according to the current regulations and will currently be held as a hybrid format. Beginning with the trade fair season in autumn, a necessary condition for admission to the trade fair grounds is that you either are fully vaccinated, have recovered from the Coronavirus within the last six months, or have a current, negative Coronavirus-test. Information will be provided as soon as possible on how this proof has to be provided and which requirements apply. Short-term changes due to altered distance and hygiene regulations that will apply in autumn will be communicated.
It is possible to purchase a ticket which, in addition to the NEWTRITION X. event, also entitles the holder to a physical visit to Anuga on that day and to use Anuga@home (NEWTRITION X. Daypass), or a purely online ticket incl. Anuga@home (NEWTRITION X. Online ticket). A change to a online ticket due to the current regulations is possible at any time. The difference will be refunded.
You can find the different tickets and the program here.
With your confirmation of participation you will also receive the opportunity to purchase the following tests at a special price:
1. MillionFriends original edition for 199€ (instead of 389€)
2. DNA-Test (Nutrigenomix) incl. 45 min. video consultation with 15 min. follow up call for 492€ (instead of 565€)
3. DNA test + MillionFriends original edition for 691€ (instead of 954€)
See our website for more information.
Program
The event will start with an overview of the state of the art in the Personalised Nutrition market and examples of practical implementation (Michael Gusko).
It will be continued with a look at trend research (Peter Heshof). There is a good explanation for Personalised Nutrition in the Zeitgeist.
Product development, nutritional medicine, technology, distribution and interdisciplinarity are in the foreground:
How can artificial intelligence be used to conduct consumer research and product Development (Mariette Abrahams)?
What influence does Personalised Nutrition have on health (Torsten Schröder)?
How can Personalised Nutrition be used in medicine in the future (Christian Sina)?
How can science, industry and nutritional advice cooperate in product development and optimisation (Rachel Clarkson)?
What new technologies - from wearables to 3D printing - are there (Bendikt Kurz; Melissa Snover)?
What innovative ideas does the trade need (Sergej Vdovitchenko)?
The event will be moderated by Mariette Abrahams.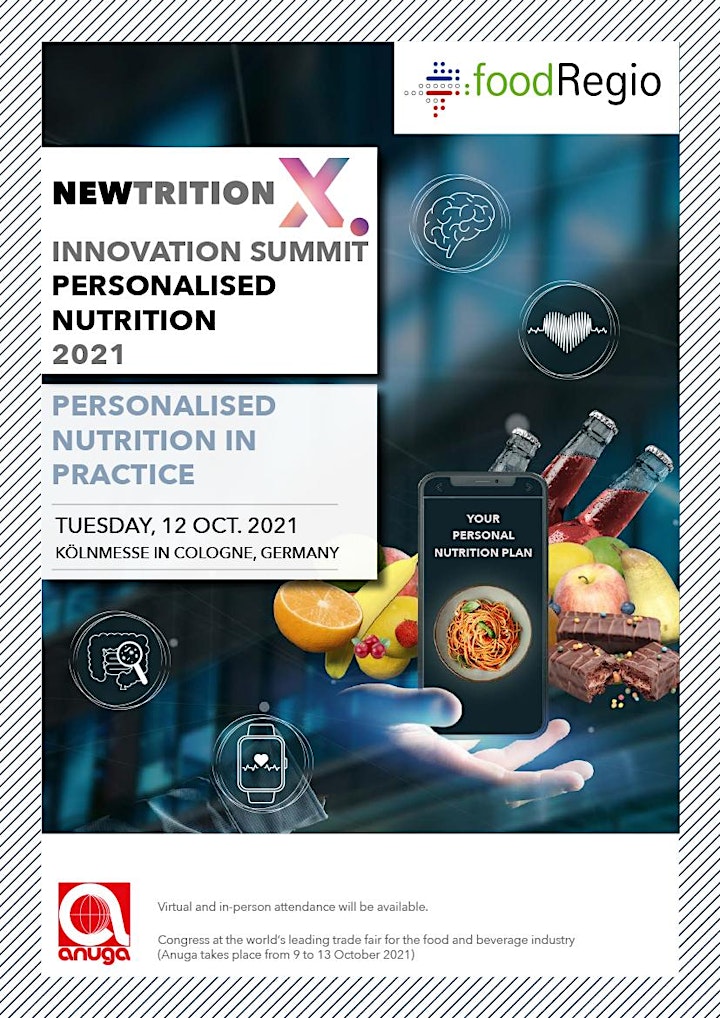 Organiser of NEWTRITION X. - Innovation Summit Personalised Nutrition - 12 October 2021
Sector network of the North German food industry - An initiative by businesses and food science institutions in Northern Germany - centred on the Lübeck region.
foodRegio stands out for its great agility. Our members are totally committed to the network idea which can be felt at every foodRegio gathering, in working groups and at our major events. foodRegio follows a clear strategy and clearly defined goals. We want to be measured by how well we achieve them.

Our Goals

To strengthen the competitiveness of the foodRegio companies;
To promote profitable, sustainable corporate growth in foodRegio;

To establish foodRegio as an important and attractive location at the national and international level;

To take advantage of all available resources to strengthen foodRegio and assure its future.

Our Principles

All projects are initiated by the companies belonging to foodRegio which also takes responsibility for them. Possible, requested or proposed projects are evaluated based on 4 factors:

Is there industry-wide interest?

Can foodRegio make an effective contribution?

Will it be possible to achieve an immediate impact?

Can measurable benefits be demonstrated, or are they achievable ?

Projects requiring additional resources are organised as public-private partnerships (PPP) and may also have other organisational forms.

Our Activities

At present, our activities are planned, coordinated and carried out by eight working groups. Our Closed-door events, for full members only:

Working groups

Training courses / seminars / workshops

Project meetings

General meeting

Board meeting

Company visit with participation of state policymakers

Events open to everyone, including non-members:

Forums on practical topics

Training courses / seminars / workshops

Trend Day

NEWTRITION X. Innovation Summit Personalised Nutrition