Are you new in town? Just moved to Berlin? Got stuck during COVID and craving human connection? Just looking for a fun Wednesday night?
About this event
- Are you New In Town!
- Just Moved to Berlin? or
- Just Looking For a GOOD WEDNESDAY!?
= Then have no fear one of the best places for meeting new people is a COMEDY SHOW open mic!
==Show starts 8.30pm but we open doors 8pm so come earlier if you wanna hang out 🙂
== This is an indoors show. It's Covid compliant and safe. To make sure that is the case, we require a negative test result (no older than 24h) or proof of full vaccination (older than 14 days) or recovery (older than 28 days and no older than 6 months). 
==Berlin has one of the most vibrant English comedy scenes in Europe and it's a great places for expats and local alike to meet and make friends.
==We have comedians from all over the world - Romania, SriLanka, New Zealand, Uganda, Colombia. USA and more. You're likely to find a lot of interesting and cool people at our shows so be sure to join us every Wednesday at Kara Kas Comedy Club
==The show entry is FREE however we do ask for donations at the end anywhere between 6 to 9 euro is encouraged if you have a reservation!
Come check out the show and if you'd like to perform just post in the discussion spot and first time.
The show is very supportive and we will make sure to have a great first time!
Be sure to reserve a ticket to make sure you get a seat!
PLEASE KEEP IN MIND THAT WE ONLY HOLD RESERVATION UNITL 20:15
if you are not there by that time we will give away your seat on a first come first served BASIS!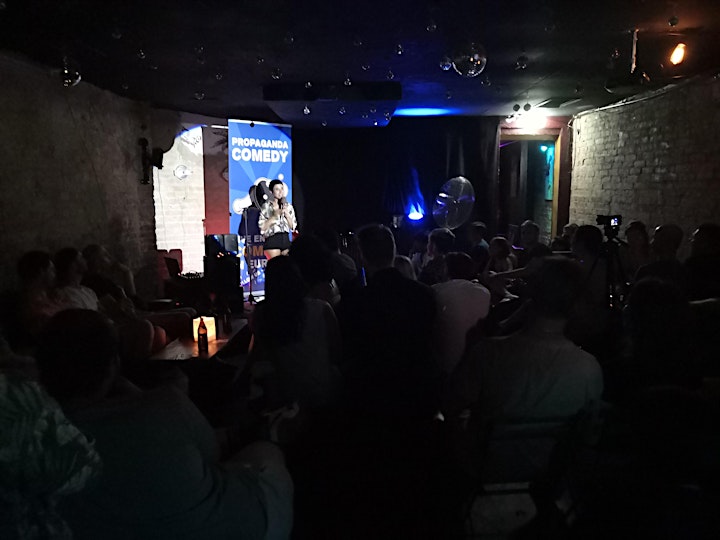 Organiser of New in Town - The Social English Comedy Show with FREE SHOTS (FREE ENTRY)
Former Kabarettist and current Stand-Up Comedian who lives in Berlin. If you enjoy a good Nazi joke followed by fart joke, you might just like this guy. A bit. Maybe. Probably not.
Chris has extensive touring experience all over Europe. He has opened for Anthony Jeselnik and Jim Gaffigan, Andy Haynes, Ian Fidance as well as co-produced Jamali Maddix and Ari Shaffir. He's part of the comedy collectives Propaganda Comedy and The Berlin Offensive, and runs Laughing Spree Comedy, Laughing Bearlin, the Eastern European Comedy Special and Berlin for Dummies.