Dieses Event ist beendet.

Veranstaltungsort
DCI Campus Hamburg
Wandalenweg 30
3. OG
20097 Hamburg
Germany
What jobs are secured for the future? You don't know where to find a safe job? Find out how you can become part of the digitalization!
Zu diesem Event
At this event, you will learn everything about the safe jobs of the future. The Digital Career Institute is a certified education provider that helps people with no prior technical experience to get a start in tech.
Want to get into the tech industry too? Secure, well-paid, and flexible jobs are waiting for you! 🚀
💫 Contents
Learn about the digital revolution and how it's changing our job market
Best jobs with a secure future
How to find safe jobs and easy career change opportunities
Discover 100% financed courses to start in tech if you are unemployed
👨‍🎓What our students say about us: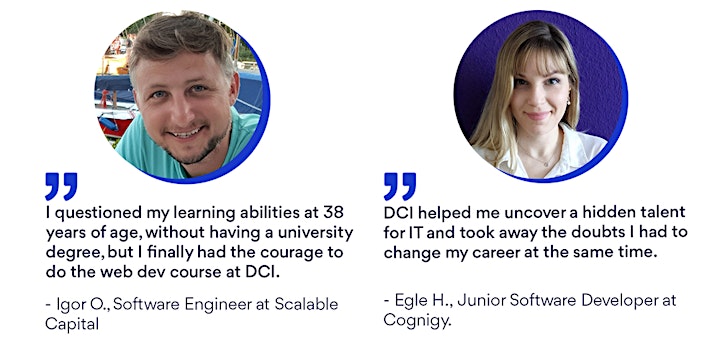 Our students come from very different backgrounds. 🌈 They have many different professional backgrounds, are young and old, and come from over 110 different nations. They are proof that anyone can make it in the tech industry.
🧑‍💻 A DCI graduate at work:
Never worry about your future again. Become part of the digitalization and find a safe job for your future! 💙
We are looking forward to meeting you!
Your DCI-Team
(oi:HH-SFJ-EN-2022-08-09)