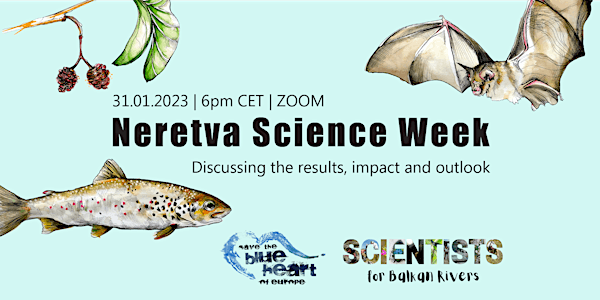 Neretva Science Week Results
Dive into the results of the Neretva Science Week and learn how research contributes to the protection of this highly intact river system.
About this event
Bringing the results of the Neretva Science Week
The Neretva Science Week that took place from June 28th to July 5th, 2022 brought 50 scientists from around Europe to research the highly intact Neretva River in Bosnia and Herzegovina. They collected data aimed at characterising this highly threatened riverine ecosystem. They focused on describing aspects of river-associated biodiversity by combining their expertises on various aquatic and terrestrial plant and animal groups. Furthermore, they studied the environmental conditions supporting this biodiversity and a selection of ecosystem functions it may drive in the particular setting of this river.
This webinar is open to everyone that is interested in this beautiful river. We will share the main findings of the scientists, that all argue for the protection of this unique river system.
Impact and Outlook
In addition, we discuss the positive impact these results already have and what we expect from the Scientists for Balkan Rivers Network in the coming year, including plans for a second Neretva Science Week.
Scientists for Balkan Rivers
This network is a grassroots-like network for collaborative data collection and advocacy. By joining the network, you help address the current data deficiencies across Balkan rivers needed to better understand these pristine ecosystems and provide evidence for legal fights to preserve these valuable rivers.
By participating, you have the benefit of meeting fellow scientists with shared values, who work in related study fields. This can lead to valuable collaborations and knowledge exchange, as well as to innovative research ideas that focus on a larger geographical scale. For early-career scientists, such collaboration can be a true career boost.
Info & Network Registration: balkanrivers.net/en/scientists
Email: scientists@balkanrivers.net
* Zoom link will be sent out to registered participants shortly before the event!
Acknowledgement
Financial support for this work was provided by Riverwatch (www.riverwatch.eu) and EuroNatur (www.euronatur.org). The Neretva Science Week is part of the Scientists for Balkan Rivers project within the Save the Blue Heart of Europe campaign (www.balkanrivers.net) that is financially supported by the Manfred-Hermsen Stiftung (www.m-h-s.org).