NEIL O´CONNELL: Making sense of evidence from trials and systematic review...
Eventinformationen
Veranstaltungsort
TherAktiv Heidelberg
Pleikartsförster Straße 116
69124 Heidelberg
Germany
Beschreibung
Course description
This 2 day course is designed for current clinicians and aims to enable participants to become better users of clinical effectiveness research. The course will explain and cut-through the jargon of trials and systematic reviewsand offer a framework for critically appraising these types of research paper. The broad aim is that participants will develop the skills to go beyond the abstract of a paper and be able to make detailed and informed judgements regarding the alidity and results of trials and systematic reviews and to consider what those results might mean to their practice.
Format
The course will consist of a mix of lectures and workshops. For the workshops, prior to the course participants will be directed to contemporary open-access trials and systematicreviews (titles TBC) to read. These will be critically discussed using a critical appraisal tool in small groups followed by large group discussion. At all times the emphasis will be on keeping it clinically relevant, fun and interactive.

Course Objectives/ Learning outcomes
At the end of the course participants should be able to:
• describe the various designs of clinical trials and discuss what each design offers
• describe the basic structure of a systematic review
• understand and identify the major risks of bias and threats to internal validity in RCTs and Systematic reviews
• interpret and appraise a basic meta-analysis
• interpret the meaning of a range of different commonly used effect sizes
• critically discuss the applicability of research results to everyday practice.
Course Tutor
Dr Neil O'Connell is a Senior Lecturer in Physiotherapy in Brunel University, London, UK. He divides his time between research and teaching and previously worked extensively as a musculoskeletal physiotherapist. He leads a module in the principles and practice of evidence based healthcare for post-graduate physiotherapists and occupational therapists.Neil's main research interests are chronic low back pain and complex regional painsyndrome with a focus on evidence based practice and he has published extensively in thisarea. He has authored and co-authored a number of published systematic reviews.
Neil is a member of the editorial board of the Cochrane Collaboration's Pain, Palliative and Supportive Care (PaPaS) group and the Journal of Pain, is the senior commissioning editorfor the pain science blog Body in Mind (www.bodyinmind.org) and was a member of the Guideline Development Group for the UK's National Institute of Health and Care Excellence (NICE) updated guideline for the management of low back pain and is currently a specialist member of the NICE Quality Standards Advisory Committee for low back pain.
Course Schedule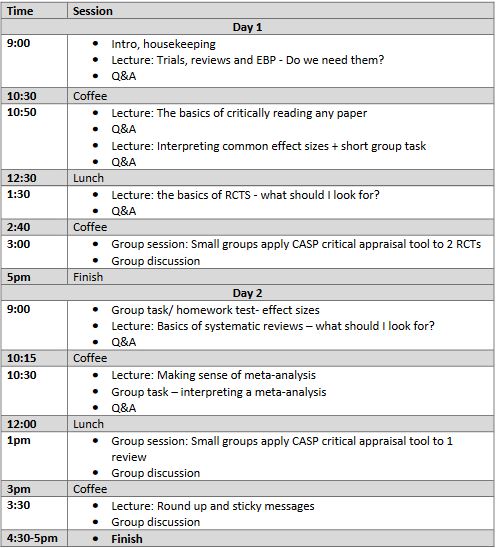 Datum und Uhrzeit
Veranstaltungsort
TherAktiv Heidelberg
Pleikartsförster Straße 116
69124 Heidelberg
Germany