About this event
MUSIC PRODUCTION LAB is a 3-day live workshop.
Simple steps on how to transform your musical ideas into brilliant songs
From loops to songs in 3 days!
22 - 24 September
In 3 days of this music production lab, Ableton Certified Trainer Roy Perez will guide you on how to...
Listen to music and learn from it at the same time
Make your music engaging and emotional
Create interesting building blocks for your songs
Get out of short and boring loops
Are you ready to go from loops to songs? Then save your free spot! Apply here.
3 days, 1 goal: give your musical ideas a structure and create music with a plan
DAY 1
September 22nd, 7 PM CET (Berlin)
SONG ANALYSIS
We're going into the process of active listening.
Listening to tracks and analysing them
What to listen for?
What can you take from that?
DAY 2
September 23rd, 7 PM CET (Berlin)
ACTIVE LISTENING
Discovering the secret of a great song.
What makes a good song
Finding the peak
Thinking like the listener
DAY 3
September 24th, 7 PM CET (Berlin)
GETTING OUT OF THE LOOP
We're going into the process of practical creativity.
The road to an efficient workflow
Getting out of the loop
Creative approaches inside clips
We'll meet at your place 😊
This Music Production Lab takes place live online via Zoom. It's going to be interactive, creative, and a lot of fun. At the end of each session, we're going to have time for Q&A.
Hi, I'm Roy Perez
I'm an Ableton Certified Trainer, music producer, multi-instrumentalist, live performer, musician and music coach.
My mission through my live performance, training, courses, coaching and my drumnote Community is to help folks create their own musical voice and empower as many people as possible to get creative so they can be proud and happy with their musical creations.
Ableton Certified Trainer
Improviser & live performer
Musician, drummer, music producer & DJ
Sound engineer
Music mentor and coach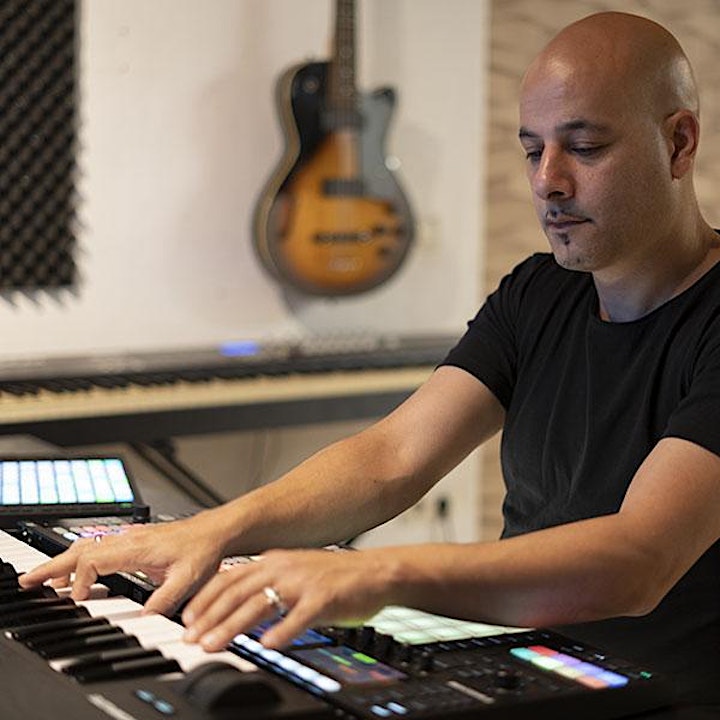 I invite you to learn how to communicate and influence others with your music. Get the listeners to be immersed in your sound, and keep coming back for more!
In 3 days, you'll get insight into my proven method that helped hundreds of students create music that they are proud of and expand their short ideas into full songs quickly and with a lot of fun in the process.
If after these 3 days you feel that you want more, you'll get the chance to do so and dive deeper.
It doesn't matter what music genre you prefer to produce. Or what DAW (Digital Audio Workstation) you use.
I personally have a background in jazz, techno, sound design, and experimental music teaching drums, Ableton Live, Logic Pro and FL Studio.
In this 3-day workshop, I will be using Ableton Live, but you can learn for your DAW, too.
Are you tired of getting stuck at generating loops and random pieces of sound? Do you need a structure to your music production? Then make sure you don't miss this opportunity and save your free spot 👉 Apply here.
Organiser of MUSIC PRODUCTION LAB
Drumnote Productions ist eine Music Production & Sound Design School mit Sitz in Augsburg und einer Niederlassung in München. Dank der Kooperation mit den marktführenden Herstellern von Software- und Hardware-Produkten im Musikbereich bietet drumnote Productions ein großes Spektrum an Kursen und Workshops an.
Das musikalische Bildungsangebot von drumnote Productions beinhaltet sowohl die gängigen DAW-Kurse (z.B. Ableton Live, Cubase, Logic Pro, FL Studio u.a.) als auch die exklusiven Plugin- und FX-Kurse, bei denen die Teilnehmer ihre eigene Musik produzieren, aufnehmen und bis zu einem fertigen Track entwickeln können. Hier kann jeder – mit oder ohne Musikvorkenntnisse – lernen, wie man Songs mit Audio-Effekten verbessert, klar und ausdrucksstark mixt, eigene Sounds mit Synthesizern kreiert sowie zahlreiche Produktionstechniken anwendet.
Das Kursangebot von drumnote Productions richtet sich an alle, die ihre eigene Musik produzieren wollen. Mit dem Slogan "MAKE YOUR MUSIC" ermöglicht es drumnote Productions, eigenständig komponierte Songs und Beats von einer Idee bis zur weltweiten Veröffentlichung bei einem Label zu bringen.