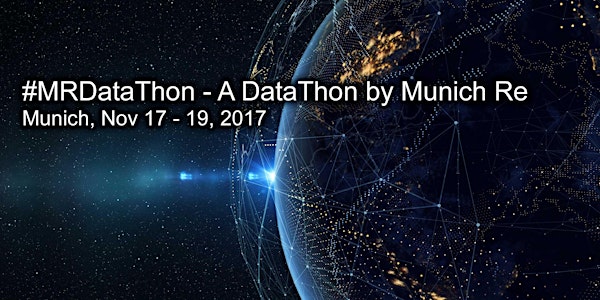 Munich Re DataThon - Tackle challenges of climate change
When and where
Location
THE LAB / WERK 3 Atelierstrasse 10 Munich Germany
Description
The consequences of climate change are diverse and are impacting the insurance industry. Physical changes resulting from regional shifts in weather patterns are one of the consequences of great relevance to reinsurance. It is clear that the situation is grave not only for scientists and politicians, but that massive challenges resulting from climate change are ahead for the insurance industry as well.

---

You will be part of team with each 5 members. We will challenge you in following disciplines:
1) Investigate the total economic costs of recently occurred hurricane events (season 2017)
2) Define and calculate the maximum foreseeable economic loss hurricane event and the likelihood in the Caribbean and south-east US region
3) Determine the influence of climate change on the probability of the foreseeable maximum loss event?
To find approaches in giving sensible answers to the above mentioned challenges, we will give you exclusively access to data sets out of our entire Munich Re universum. You have only to bring your own equipment (laptop with WLAN connection) and your data tool set to the venue.
We have, of course, organized everything you need for 24/7 data-hacking (and more!):
Wi-Fi / Ethernet

presentation equipment

meeting rooms / team rooms resp. places

a place to relax and sleeping opportunity in Motel One nearby

great food and beverages for free



---

Do you have exceptional skills for analysing data and a huge appetite for discovering answers and predicting results hidden in that data? Are you someone who wants to take a dive in our data lake and tackle the challenges of climate change? If you are, join us for an exciting two-day DataThon hosted at our LAB in Munich. By having exclusive access to a set for climate data, we want you to look for new ideas in predicting the effects of climate change.
We will provide very attractive prizes in 3 categories:

- Best solution at all
- Best presentation and visualization
- Most innovative approach
---
Microsoft will support the #MRDataThon actively with Azure Cloud computing power, subject matter experts
and a lot further services.

---
Attendees of the DataThon can stay for free at the nearby Motel One München-City-Ost. The leading budget-design hotel chain is sponsoring your stay in Munich.


Book your free hotel room in the registration form. Early registration is recommended as room numbers are limited.