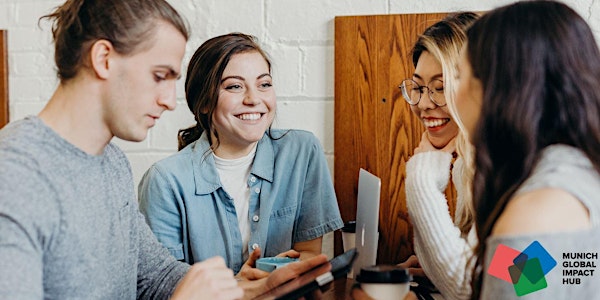 Munich Global Impact Hub Co-Creation-Conference #3
Be part of the third Munich Global Impact Hub Co-Creation-Conference and meet the relevant player in the Munich Innovation Ecosystem
When and where
Location
Munich Business School Elsenheimerstraße 61 80687 München Germany
About this event
The Co-Creation Conference is a bi-annual event, matching (tech) start-ups from Munich and all over the world, key experts from industry, representatives from science, academia, the public as well as culture and creative sector, and venture capitalists at eye level to co-create scalable innovation striving towards the Sustainable Development Goals.
Our goal is to foster the relationship between international and local top-level teams as well as leading players of the Munich Innovation Ecosystem to push Munich to become the fastest growing tech-hub in Europe and make innovative impact driven ideas a reality.
Schedule:
08.30 am Registration
09.00 am Welcome speech by Prof. Dr. Jelena Spagnol, IEC, LMU
09.15 am Impulse Talk, Josephine Hubert
09.40 am Presentation of a short study about co-creation, Sabrina Gülck & Vinzent Ellissen, Undiced
10.00 am How to create co-creation? – Florian Bogenschütz, Wayra / O2
- Coffee Break –
10.30 am Workshops Nr.1-3
11.30 am Speed-Dating
12.00 pm Networking and Flying Buffet
The workshops will be allocated by the host.
Workshop I: Impact through purpose
Moderator: Max Lindner (LMU Innovation & Entrepreneurship Center)
Content: Organizational purpose is the foundation of creating impact beyond financial value creation and profit maximization. In this workshop we will encounter and apply the basics of these concepts and take the first step of connecting you with other players from the ecosystem that align with your purpose.
Workshop II: Events/Programs/Networking - How to navigate the Munich Startup Ecosystem
Moderator: Juliana Bonitz (TUM) & Belinda Büchner (TUM Start-up Consultancy)
Content: In this interactive workshop, participants will get an overview of the key players, programs and events of the Munich startup ecosystem. Tailored to the needs of the participants, we exchange best practices for networking and approaching relevant players.
Workshop III: Different Phases of Co-creation towards Design, Planning and Execution
Moderator: Prof. Dr. Klaus Sailer
Content: In this workshop, we aim to present the phases of co-creation as effective and efficient means to co-design and co-develop creative practices and solutions. Using design thinking our goal is to energise prospective regional partners and stakeholders, in ways that invite new ideas to systematically solve complex situations, and build trust in the process of development and support for innovation and entrepreneurial projects.
Workshop IV: Innovation – Impact – Interaction
Moderator: Prof. Dr. Heiko Seif
1. How to identify suitable corporates as customers for co-creating with my start-up?
a. Anticipating specific problems in industries / branches
b. Identifying corporates with a high willingness to o-create
c. The role of job offerings
2. How to position my start-up at a corporate?
a. Finding the right contact persons and the role of the top management
b. Having the right message that makes the managers curious
c. Building a buying centre
3. How to lead a co-creation project with corporates as a start-up?
a. Project procedures in the corporate world – how agile are they really?
b. The balance between speeding up and patience
c. The problem of idle time in a co-creation process and how to tackle it
The event will take place in person. If you are located abroad and cannot join us in Munich, you have the chance to participate online for the workshop part of the conference. Please choose your ticket accordingly.
Let´ s co-create together!