Our hybrid MSA Expert Course focuses on you as a user of the Mobile Surface Analyzer – MSA with your practical applications.
About this event
Get the best out of your Mobile Surface Analyzer – MSA, optimize your processes, and reduce downtimes. Participate in this hybrid one-day, complete your skills in testing of wetting and surface free energy, and receive the KRÜSS certificate.
The course has been jointly developed by our Application, Technical Support, and Scientific specialists. Upon completion, you will not only be able to perform precise contact angle measurements with your Mobile Surface Analyzer – MSA, but also recognize faulty measurements and avoid possible technical errors. In addition, you will safely handle your instrument and the chemicals used.


Course objectives
Acquire technical basics for precise contact angle measurement with the MSA
Calculate and evaluate surface free energy (SFE)
Identify and correct potential application errors
Safely handle diiodomethane
Control surfaces and surface pretreatments (such as plasma or corona treatment, or cleaning)
Avoid possible technical errors
Get support and practical advice for your application questions and samples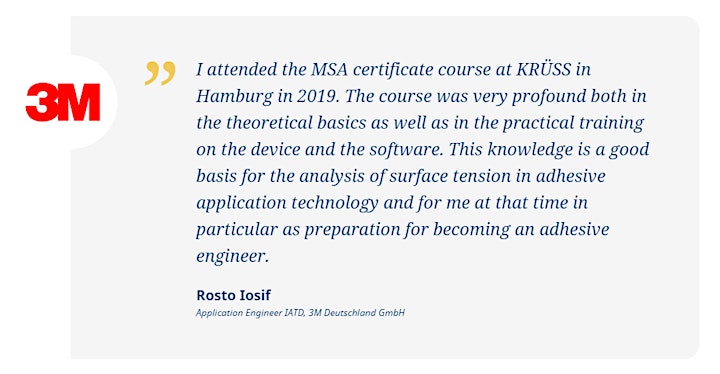 Our know-how for your applications
Our team of experts brings extensive practical experience from both science and technology and combines the best of both worlds in this online event. The course imparts the necessary knowledge from the subject areas of contact angle measurement, surface free energy and pretreatment, and the technical aspects of the measuring instrument. Using various application examples from the participants, you will develop solutions together with our seminar team and expand your skills with current best practices from the industry. With this course and your certificate, you will be even more qualified as a professional tester for wetting and surface energy.
Practical sessions on the way to the certificate
During breakout sessions in small groups, you will apply the knowledge you have acquired with your own instrument and, in this way, develop new approaches to solutions. You will be guided by our specialists in the lab, deal with current problems, and learn how potential handling errors can be easily avoided. The course concludes with the acquisition of a certificate.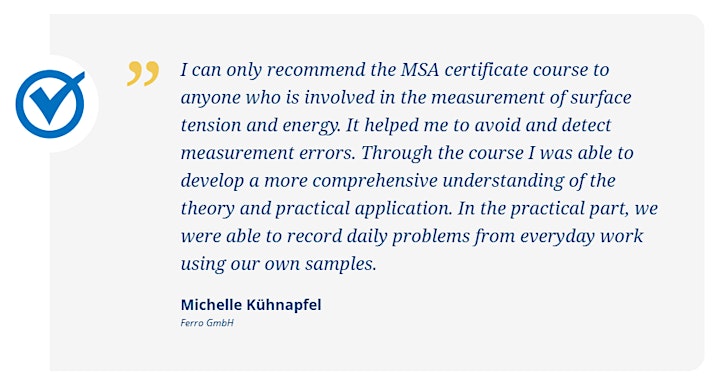 Payment options
You cannot pay by credit card? Contact us at customercare@kruss.de to arrange an alternative payment method.

Our webinar team
Dr. Daniel Frese has a PhD in biophysical chemistry and is an Application Market Manager for our customers and in our worldwide distribution network.
Martin Jungsbluth has taken over the management of technical support and QA at KRÜSS as Dipl.-Ing. Biomedical Engineering and has extensive knowledge of the technical aspects of all KRÜSS products.
Dr. Andrew Mellor obtained an engineering doctorate in surface and interfacial physics/chemistry from the London Centre for Nanotechnology (UCL) and currently serves as an Application Market Manager to our worldwide customer network.
Dr. Thomas Willers holds a PhD in solid state physics and, as head of the Applications & Science department, has more than 8 years of experience in transferring knowledge in interfacial chemistry and physics.
Further specialists from our technical service and customer support laboratories.

Further Information
One-day webinar held in English
Max. 50 participants
The registration is company- and not person-bound
This course is offered for MSA users
We reserve the right to make changes to the speakers and the course of events
Do you have any questions?
Please contact us: customercare@kruss.de