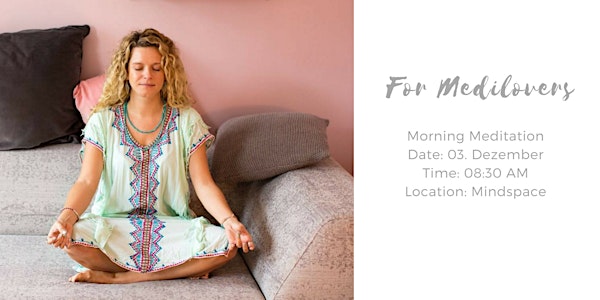 • Morning Meditation •
When and where
Location
Hamburg Mindspace Rödingsmarkt 9 20459 Hamburg Germany
Description
Start your day with Love.
Und zwar mit Liebe für dich Selbst, für dein Leben und all die Dinge, die dich umgeben. Wir sind so damit beschäftigt unsere eigenen Erwartungen und die der anderen zu erfüllen, dass wir uns oftmals diesen EINEN Moment nicht geben.
Den Moment der Ruhe und des Loslassens. Diesen einen Moment, in dem wir nicht in Gedanken sind, sondern vollkommen geerdet ins uns ruhen.
Sei am 04. Dezember dabei und lass uns gemeinsam diesen Moment gönnen. Diesen Moment, in dem wir in der Gruppe schweigen, deine Kreativität wie durch ein Wunder angeregt wird uns du vielleicht danach das Leben aus einer völlig neuen Perspektive sehen kannst.
Bring deine Mama, Beste Freundin oder Partner mit!
***Sicher dir deinen Ticket auf Eventbrite. Tickets sind nicht stornierbar.***
Für Mindspace Member: 9 Euro
Externe sind auch aus Herzen Willkommen: 12 Euro
Dani ist die Gründerin von "The Circle of Wonderwomen", Podcast Host und Meditationslehrerin. In ihren Wonderwoman Circle´s bringt sie Frauen zusammen, die sich gegenseitig inspirieren und Mut machen, den persönlichen Wunschweg zu finden und ihn auch zu leben. Vor einigen Jahren hat Dani das Meditieren für sich selbst entdeckt und auf ihren Reisen von unterschiedlichen Lehrern lernen können. Mittlerweile schreibt sie ihre eigenen Meditationen und möchte ihre Erfahrung gerne teilen und Dir die Kunst des Meditierens näher bringen.