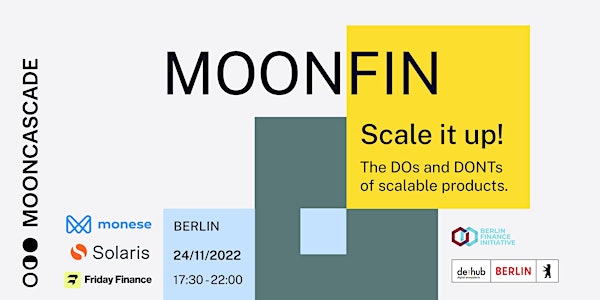 MoonFin - the DOs and DONTs of scalable products
Scale it up! - the DOs and DONTs of scalable products!
When and where
Location
Scaling Spaces - H:32 Hardenbergstraße 32 10623 Berlin Germany
About this event
We invite you to join us on the 24th of November to discuss on the best practices of building scalable products. The event is presented by Mooncascade and supported by the official community of 𝗕𝗲𝗿𝗹𝗶𝗻 𝗙𝗶𝗻𝗮𝗻𝗰𝗲 𝗜𝗻𝗶𝘁𝗶𝗮𝘁𝗶𝘃𝗲 and 𝗕𝗲𝗿𝗹𝗶𝗻 𝗣𝗮𝗿𝘁𝗻𝗲𝗿
⭐Use this opportunity to learn from industry experts and ask questions directly from the global FinTech start-up 𝗠𝗼𝗻𝗲𝘀𝗲, Europe's largest embedded finance platform 𝗦𝗼𝗹𝗮𝗿𝗶𝘀, the simplifiers of the business financial world Friday Finance (Airbank) and the experienced FinTech software developers from 𝗠𝗼𝗼𝗻𝗰𝗮𝘀𝗰𝗮𝗱𝗲.⭐
We are eager to introduce to you the speakers. We are showcasing the exciting speech by the CTO of 𝗠𝗼𝗻𝗲𝘀𝗲, Jonas Kiiver, who will share the lessons Monese learned from scaling a global FinTech product into a multi-million dollar business. The CTO of 𝗦𝗼𝗹𝗮𝗿𝗶𝘀, Dennis Winter will be joining us to share his valuable insights on how to scale a product platform. What does it ultimately come down to and what are the best practices Solaris has learned throughout their journey will be some of the key points Dennis Winter will be touching upon.
Alex Müller, the VP of Growth at Friday Finance (formerly known as Airbank) will join us to share his thoughts on what differentiates a product-led growth fintech company and how their operating models in engineering, product, and commercial teams look like.
Alongside Monese, Friday Finance and Solaris, the co-founder of 𝗠𝗼𝗼𝗻𝗰𝗮𝘀𝗰𝗮𝗱𝗲 Indrek Ulst will share the main lessons we have learned during our 10+ years in the software development business and share what not to do while trying to build a scalable MVP.
Stay tuned for more information on the speakers!
Agenda:
17:30 drinks and registration
18:00 - 19.30 Presentations from 𝗠𝗼𝗻𝗲𝘀𝗲 , 𝗦𝗼𝗹𝗮𝗿𝗶𝘀, 𝗠𝗼𝗼𝗻𝗰𝗮𝘀𝗰𝗮𝗱𝗲 and Friday Finance
19.30 - 22.00 Networking
Europe's largest embedded finance platform 𝗦𝗼𝗹𝗮𝗿𝗶𝘀 is a German technology company with a full banking license. Their vision is to create a world where financial services seamlessly sync with life. Solaris is bringing together the best of the tech and banking worlds and taking care of all regulatory complexities so you could be focusing on your core business and customers. Today, they are backed by international, renowned investors, and have raised a total of more than EUR 390 million in funding.
In 2015, 𝗠𝗼𝗻𝗲𝘀𝗲 founder Norris Koppel started on a mission to offer inclusive financial services to those without perfect credit scores or proof of address. Today the Estonian Fintech startup has millions of signups from people across 31 countries. With 70% of incoming funds from the UK attributed to salary payments, they're one of the most popular and trusted financial services across Europe. Monese has grown from being the UKs first mobile app alternative to banks and an industry disruptor in 2015, to reaching a global level and recently raising 35m from HSBC to support it's move into the banking-as-a-service business.
𝗠𝗼𝗼𝗻𝗰𝗮𝘀𝗰𝗮𝗱𝗲 is an advisory, design and software development company. Their mission is to help small companies grow and established businesses scale quickly. They have a vision where nothing stands in the way of great ideas becoming a reality, which is fairly verified with the fact of Mooncascade having been the development partner for multiple unicorns. With 60+ inhouse development experts, they have shared path with Wise (formerly TransferWise), Bolt, Veriff and Glia, but also the global FinTech startup Monese along with German startups Solaris and troy and many more.
Friday Finance (formerly named Airbank) is on a mission to simplify finance management for small and medium-size businesses. They were born from the observation that businesses need more simplicity and better control when managing their finances and cash flows. Friday Finance today has transformed the patchwork of separate spreadsheets, systems and accounts to a unified environment. They offer 20 000 bank integrations providing real-time data that instantly reveal financial insights. Being backed by leading VCs in Europe, including New Wave, Speedinvest and others, Friday Finance recently announced a 20m funding from Molten Ventures to continue building the most comprehensive global SMB banking solution across Europe.
****
By signing up to this event, registrants agree to allow Mooncascade to contact them regarding their registration and attendance at the event. The data that is collected will also be shared by Mooncascade and the event sponsors for post-event follow-up communications, such as new event announcements, newsletter updates, and sales & marketing outreach.