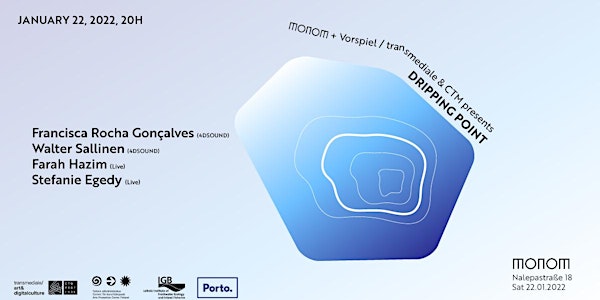 MONOM + Vorspiel / transmediale & CTM presents: Dripping Point
MONOM + Vorspiel / transmediale & CTM presents: Dripping Point. W/ works by: Farah Hazim, Francisca Rocha, Stefanie Egedy & Walter Sallinen
When and where
Location
MONOM Nalepastraße 18 12459 Berlin Germany
Refund Policy
Contact the organizer to request a refund.
About this event
22.01.2022
Entry: 15€
Doors open at 20h00
2G+ Event: Proof of vaccination or recovery is required PLUS a negative test. Both rapid tests and PCR tests are accepted.
MONOM (monomsound.com) - Nalepastr.18, 12459, Berlin
_________________________________________________________________
WORKS IN 4DSOUND:
2182 kHz - Francisca Rocha Gonçalves
From a great height - Walter Sallinen
WORKS IN THE NEXO SOUND SYSTEM:
Improvised Gestures (Live) - Farah Hazim
SUB-BASS RELAXATION SESSION (Live) - Stefanie Egedy
Presentation of the event:
MONOM presents new spatialised sound works that dive deep into the biology of disturbance, proposing new ways to confront the distress over oceanic biodiversity loss. Exploring transgressive frequencies and vertical depths, Dripping Point invites the listener for body attunement through its dislocation in space.
Presentation of the works:
2182 kHz by Francisca Rocha Gonçalves focuses on the problem of underwater noise pollution and the concept of "auditory ​masking". It offers a sensory exploration of geologic, biologic and anthropogenic sounds, revealing the potential challenges aquatic fauna face to communicate. It is inspired by the radio frequency 2182 kHz, one of the international calling and distress frequencies for maritime radiocommunication.

*4DSOUND Sound Spatialization by Shehryar Ahmad

From a great height by Walter Sallinen examines subsidence and love for grief. It's an eerie invitation into an underwater world of the hidden depths and transgressing powers, playing with the emancipatory potentials of lamentation.

*4DSOUND Sound Spatialization by Tilo von Ketelhodt

SUB-BASS RELAXATION SESSION by Stefanie Egedy is a low-frequency sound bath that explores the relaxing potential contained in sound waves and subwoofers of the nervous system and the body.
____TICKET INFORMATION
PROGRAM SCHEDULE AND DETAILS
_Doors open at 20h00
_20h00 - 20h20 - Improvised Gestures (Live)
_20h20 - 21h10 - 1st Slot (2182 kHz & From a great height)
_21h30 - 22h20 - 2nd Slot (2182 kHz & From a great height)
_22h20 - 22h40 - Improvised Gestures (Live)
_22h40 - 23h30 - 3rd Slot (2182 kHz & From a great height)
_23h40 - 00h10 - SUB-BASS RELAXATION SESSION
*Tickets for the sessions are individual and include access to the whole program at the Bar and Studio.
*MONOM Bar is open during the whole event and will offer a curated music selection throughout the evening alongside the live performances.
____ABOUT THE ARTISTS
Farah Hazim (b. 1990) is an intermedia artist and improviser, investigating experimental and improvised forms of sound art, and exploring alternative inquiries into hearing, listening and experiencing within a variety of compositional and improvisational contexts.
Their compositions and performances proceed with a certain slowness in the exploration of intermediate states allowing states' deployment in order to let the listener inhabit an atmospheric and textured soundscape in which sound-collage hunts tunes, and sometimes protocols lead the way.
In installations, their work has been turning towards plural narratives and time-based collaborative projects, creating a platform that tackles the way we understand reality of media and interconnectivity. Superposing and extracting different live streamed events or pre-recorded sound capsules, and concentrating them in a temporary media space, in which things accumulate and dissipate. Desireful of building temporary links and opening spaces for aesthetic interaction between different territories, geographical regions and temporalities in a complexity of "superimposed territories and intertwined histories". (E. Saïd, 1977)
Website: www.farahazim.fr
___________________________________________
Francisca Rocha Gonçalves is a researcher from Porto with a degree in Veterinary Medicine from ICBAS (University of Porto), a Multimedia Master in Interactive Music and Sound Design from FEUP (University of Porto), and enrolled in a Digital Media PhD at FEUP (University of Porto) under the program UT Austin | Portugal CoLab. Presently she is a guest researcher at the IGB - Leibniz Institute of Freshwater Ecologies and Inland Fisheries supported by FCT Portugal (Science and Technology Foundation), collaborating with the Aquatag Project. She is an artist in residence at MONOM supported by Shuttle Program - Plaka Porto. She is co-founder of the artistic collective Openfield Creative Lab and the Ocean Soundscape Awareness project – ØSAW.
She focuses on acoustic ecology and ecoacoustics in artistic creation concerning the ocean soundscape and vibroscape. By developing artistic artefacts that reveal the problem of noise pollution in underwater environments, she aims at fostering environmental awareness through creative practice, performance, and sound art.
As SINØ, she performs live exploring water and underwater soundscapes as a medium. SINØ recently received an award from the Coastal Futures International Competition of Ecoacoustic Music, a partnership between Coastal Futures Conservatory at the University of Virginia and Ecosono.
Website: franciscagoncalves.com/
___________________________________________
Walter Sallinen is a Helsinki-based composer and sound artist. Sallinen's artistic practice explores the potential of interdisciplinarity both as a compositional tool and as a key for unforeseen collaborative concepts. Following the spatial exploration of ever-ascending and -accelerating pitches and rhythms in the electroacoustic sound ritual UXO, Sallinen has deepened his interest in creating architectural sonic states as reflections of an all too hyper-normalised reality.
Website: https://www.waltersallinen.com/
___________________________________________
Stefanie Egedy is a sound worker that operates as an artist, whose practice evolves around sound. Her motto is sub-bass, bass sounds, subwoofers, and their capacity to reveal themselves as present in a space. Exploring human and architectural bodies, the interactions and potential for new creations are of greatest interest. Besieged by this scenario, Stefanie articulates the cross-over between sonorous and musical language to investigate communication between beings.
Stefanie Egedy works with field recordings, electronic and daily material sounds. Alongside Simon Fernandes, she runs the label COISAS QUE MATAM (THINGS THAT KILL), researches the relations between light and sound with Camille Laurent, and is the Head Of Sales And Operations at MONOM, Berlin's Center for Spatial Sound.
Website: https://stefanieegedy.com/
___________________________________________
____ABOUT 4DSOUND
4DSOUND is a studio exploring spatial sound as a medium. Since 2007, 4DSOUND has developed integrated hardware and software systems that provide a fully omnidirectional sound environment. These environments enable vivid sonic experiences that blur the boundaries between the real and the imagined: the world of sound we know, and a world beyond. Learn more about 4DSOUND technology.
For more information please visit: https://4dsound.net/
____PLEASE NOTE
We advise coming 30 minutes prior to the start of your sessions.
For the pleasure of everybody, please turn your mobile phones off.
No smoking is allowed in the studio.
No talking during the performances.
You can move around and explore the sound environment or sit down, as you wish.
Close your eyes for an intensified listening experience.
Guests are welcome to leave at any time, but re-entry will not be permitted.
Drinks from MONOM lounge are permitted in the studio.
Please consider the current health guidelines. Don't come to the event if you are feeling unwell.
**Current hygiene regulations are in effect during the event and are subject to change.
2G+ Event: Proof of vaccination or recovery is required PLUS a negative Covid-19 test.