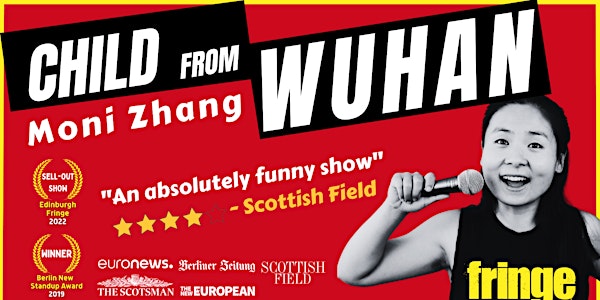 Moni Zhang: Child from Wuhan | English Comedy & Edinburgh Fringe Preview
A true story about Trauma, Love, and Diarrhea.
Date and time
Saturday, July 15 · 8 - 10pm CEST
Location
Z-Bar Bergstraße 2 10115 Berlin Germany
Refund Policy
Refunds up to 7 days before event
About this event
‼️ Moni will bring this show to Edinburgh Fringe, the world's largest performance art festival the whole August. Catch the LAST PREVIEW in Berlin ‼️
From the sweatshops of Wuhan to the stages of Berlin, Moni Zhang has lived a life that's anything but ordinary.
In this one-woman show, Moni weaves together the worlds of storytelling and standup comedy to take you on a journey through her impoverished childhood, dysfunctional family, and struggles with mental health and relationships.
But don't worry, it's not all tears and therapy sessions – Moni brings her trademark humor to the stage, with jokes that are as dark as they are hilarious.
❓Is it funny? Yes, you possibly will pee a bit.
❓Is it only funny? No, you might cry a little.
🏆 Edinburgh Fringe 2022 sell-out show
🏆 Winner of Berlin New Standup Award 2019
👍 "I saw the show, twice! Moni is a very intelligent, funny, and great performer." - Shazia Mirza (British Standup Comedian & The Guardian Columnist)
👍 "Beautiful storytelling but overly sexual" - The Scotsman
👍 "An absolutely funny show" - Scottish Field
👍 "Moni Zhang's storytelling abilities are profound. " - Entertainment Now
Who is Moni Zhang?
Originally From Wuhan, a cold, desolate place that became way too famous in 2020. A regular in The Berlin Comedy Scene and The Winner of Berlin NewStand Up Award, 2019.
Moni doesn't hold back with her material. She approaches sensitive subjects like race, sex, and farting with the finesse of a bulldozer. Her wit, set up and unique delivery makes her act fun to watch, while her vulnerability makes her the bravest person you'll meet.
Besides comedy, Moni dedicates herself to promoting awareness for mental health. She founded the Berlin Mental Health Festival, a week-long art festival including many workshops and art performances. She also produces the weekly "It's Mental! Podcast" where she has in depth conversations with creatives about their mental health journey.
Check more out at www.monizhang.com
Host:
🎤 Tyrone Stallone 🇺🇸 (INS @tyronestallone)
The son of a failed comedian, Tyrone has been around comedy his whole life. He never wanted to pursue stand up because it reminded him of his father. But when he was offered a $500 stand up class for free, he couldn't say no.
After a few months, Tyrone quit doing comedy to travel the world. During a mushroom trip in Thailand, God told Tyrone to start doing comedy again because he sucks at everything else. Now Tyrone does comedy full time in Berlin. His comedy has been described as "comedy".
### When & Where? ###
Saturday July 15
Doors open: 8pm
Show time: 8.30 - 10pm
📍 Z-Bar: Bergstraße 2, 10115 Berlin. Near Rosenthaler Platz
### Tickets ###
🎟 SUPER EARLY BIRD Tix: 8€ (6€ for students & unemployed) - until 1th July
🎟 EARLY BIRD Tix: 10€ (8€ for students & unemployed) - until 8th July
🎟 Regular Online Tix: 12.5€ (10€ for students & unemployed)
🎟 Tix at door: 15€ (12€ for students & unemployed)
🎟 Group Tickets >= 4: 10€ per person
❓Is it standup comedy?
👉 Yes and no. It's a mixture between standup & storytelling. It will be funny and emotional.
❓ What is Storytelling?
👉 Imagine it's a movie. There will be up and downs. A good comedy movie will not only make you laugh but also cry a bit.
❓ I went to Moni's other shows, but not "Child from Wuhan". Will there be a lot of the same jokes?
👉 No No No! Everything in "Child from Wuhan" will be brand new for you, except for two jokes.
❓ Is smoking allowed at the show?
👉 No!