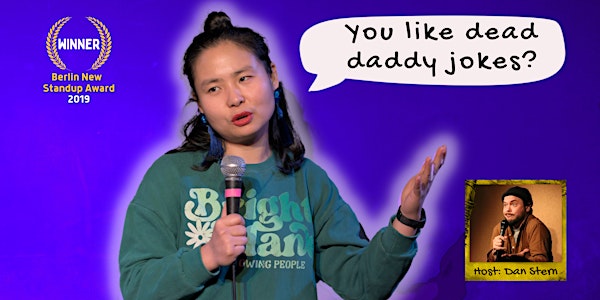 Moni Zhang: Asian Daddy, Dead | DARK Comedy & in English #04
Dark comedy by a sick gal.
When and where
Location
Galerie & Bar Tor218 Artlab Torstraße 218 10115 Berlin Germany
About this event
Moni grew up in a sweatshop in Wuhan. No wonder she developed a dark sense of humor, after surviving extreme poverty and her dysfunctional family.
This show is she making sense of her traumatic childhood, her mental illnesses, and her relationship with her dead father.
If you have a dark sense of humor, this is definitely a show for you! Moni will make you laugh at the most uncomfortable things in life, as she shows you her unique perspective of seeing light in the darkest tunnel in life.
🏆 Winner of Berlin New Standup Award 2019
👍 "Moni is a very intelligent, funny, and great performer." - Shazia Mirza (British Standup Comedian & The Guardian Columnist)
👍 "Beautiful storytelling but overly sexual" - The Scotsman
👍 "Moni Zhang's storytelling abilities are profound. " - Entertainment Now
Who is Moni Zhang?
Winner of Berlin New Standup Award 2019 & Founder of Berlin Mental Health Festival. Moni is specialized in Tragicomedy, making jokes about the most tragic events in her life.
Her first solo show "Child from Wuhan", about her love & hate relationship with her disabled mother, received good reviews both from the industry & audience. It was a sold-out show at Edinburgh Fringe, the biggest & most prestigious art festival in the world.
Moni was featured by BBC, Euronews, Scottish Field, and The Scotsman. Now touring with her Edinburgh Fringe 2022 Sell-out show "Child from Wuhan".
Check more information at www.monizhang.com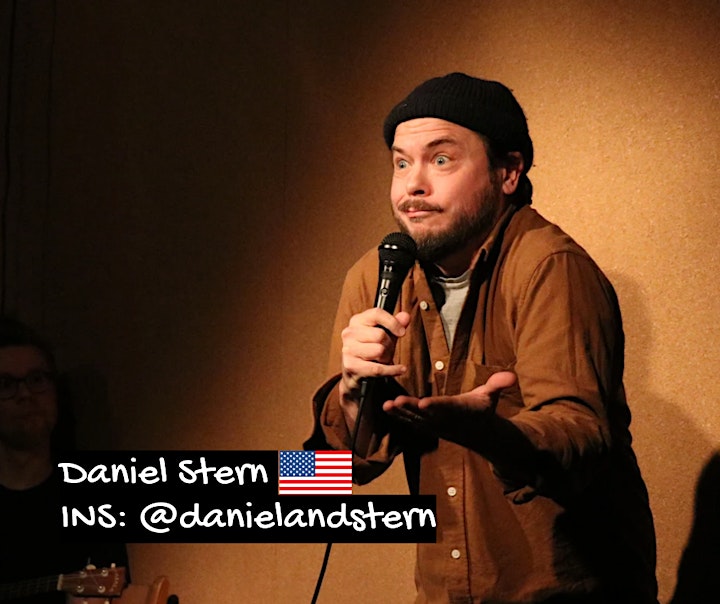 Host:
🎤 Daniel Stern 🇺🇸 (INS @danielandstern)
From the United States, now based in Berlin; Daniel Stern is a former talk show host, a retired competitive eater, a screenwriter, actor, and stand up comedian.
Stern sews absurd observations together with threads of unhinged wit; his performances are a frayed quilt of hilarious anarchy, earnest confessions, and stories about riding the bus. He writes and performs sketch comedy, hosts all kinds of events, models and acts. Daniel podcasts with Berlin news show Radio Spaetkauf and produces two monthly events: "Projectile!" and "The Staniel Dern Show".
I went to "Child from Wuhan". Will there be a lot of the same jokes?
No No No! It's a brand new show!!
When & Where?
Saturday
Doors open: 6.30pm
Show time: 7pm - 8.45pm
📍Tor218 Artlab: Torstraße 218, 10115 Berlin.
🚉 In betwwen U Oranenburger Tor & U Rosenthaler Platz. U6, U8, M1, M5, M8, M12, Bus 142.
Tickets
10€ at door with online reservation. (7€ for students / unemployed. Free for refugees.)
Limited capacity, please reserve a seat online to guarantee entry.
15€ at door without online reservation. (10€ for students / unemployed. Free for refugees.)
We accept cards & cash.
Wow, this show is so interesting, but I can't make it on this date :(
No worries! Moni is performing on other dates! Check it out at www.monizhang.com
Corona rules?
Currently, all Covid restrictions have been lifted in Berlin, masks are optional, please wear them if you wish, that is your business.